EC6.5
EC6.5
FACTORY UP-UP-UPGRADE COMPONENT SPEAKERS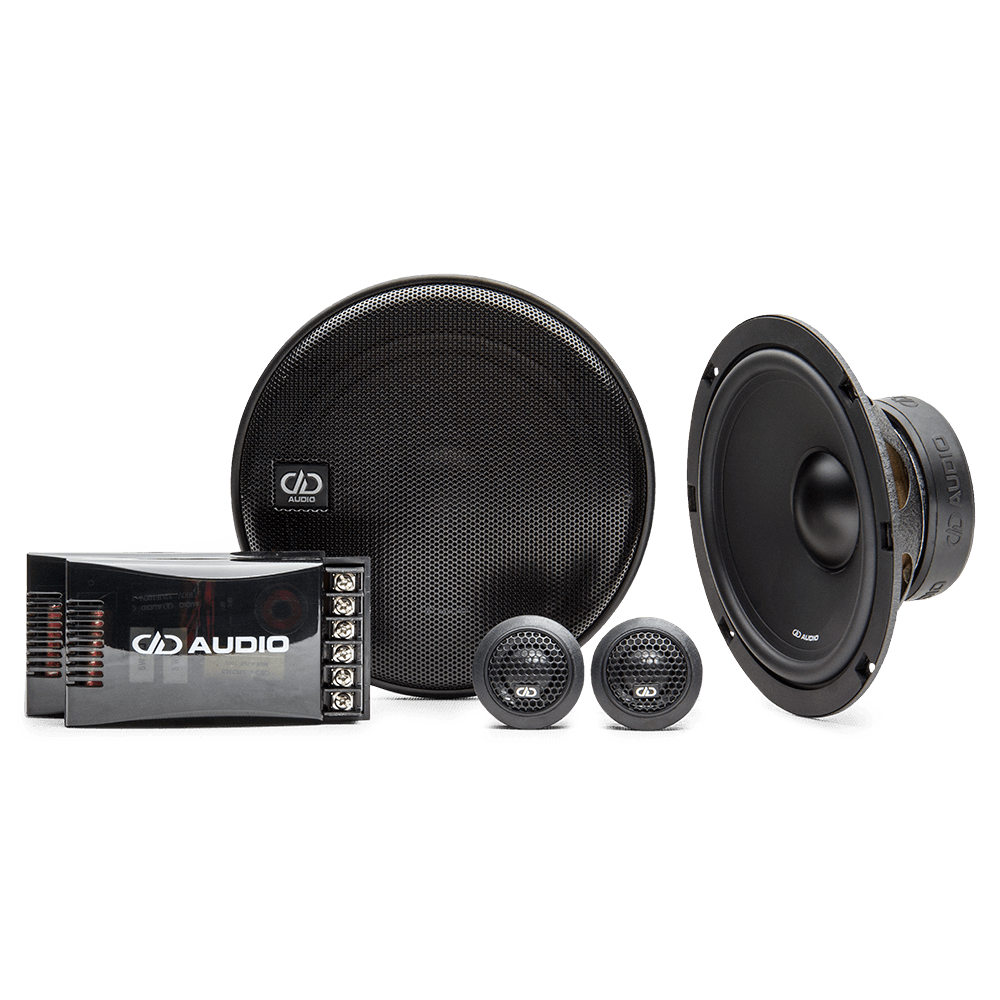 Authorized DD Audio Dealers Near You
The E Series 6.5 Component Speakers are perfect for the listener who wants to instantly take their system from factory to fantabulous. This 2-way set offers high-end features and an outstanding sound that rivals much more expensive component sets.
Woofer:
The 6.5-inch woofer features an injection molded poly cone, rubber surround, and rigid steel frame. For reduced inductance, extended high-frequency roll off, and increased efficiency the voice coils features a double slit former and the motor utilizes a copper pole cap. The soft parts are driven with a high flux 11 Oz ferrite magnet motor.
Tweeter:
The 20-mm silk dome tweeter comes with flush-mount and surface-mount solutions.
Crossover:
The crossover networks are built with premium components including mylar capacitors, segmented air-core inductors and poly fuses for tweeter protection. Two selectable tweeter levels are provided for fine high-frequency tuning.
Read the E Series Product Spotlight on The DDownlow.
Visit our OEM page for upgrade suggestions for your vehicle.
EC6.5
Driver Size:

6.5"

Watts RMS:

50

Peak Power:

100

Impedance:

S4

Frequency Response (Hz):

50 - 20k

Mounting Diameter (In):

5 5/8

Mounting Depth (In):

2 1/2
Tweeter
Driver Size:

20mm

Mounting Diameter (In):

1 19/32

Mounting Depth (In):

17/32
Shipping Weight (Lbs):

10

Price (USD):

135

Set
The E Series Components are a go-to solution for everything from an instant OEM system upgrade to an all out custom audio system. This set offers high-end features and an outstanding sound that rivals much more expensive component sets.
Resources
Any DD Audio Product bearing the Marine Grade logo incorporates water resistant features enabling it to be used in applications where moderate exposure to moisture will not result in damage to the product.
Marine Grade products are not waterproof, and submersion or excessive moisture exposure may result in product failure. DD Audio Marine Grade products are not certified for saltwater environments.

Aluminum – Double Slit Voice Coil Former

The aluminum former material acts as a heat sink, lowering the voice coil temperature. The double slits in the former break up and reduce magnetic eddy currents generated by the moving coil. The coil design works in conjunction with the copper capped pole piece to further reduce heat, inductance, and harmonic distortions.

Copper Capped Pole Piece

As current flows through the voice coil, it generates its own magnetic field which interacts, or modulates the motor's permanent magnet field. A shorting ring cancels these magnetic field changes and lowers inductance, extending the frequency range and reducing harmonic distortion.
Included in the Box
2 Woofers
2 Tweeters
Woofer Crossovers
Tweeter Crossovers
Tweeter Mounting Hardware