D4.75
D4.75
D SERIES (MINI) 4 CHANNEL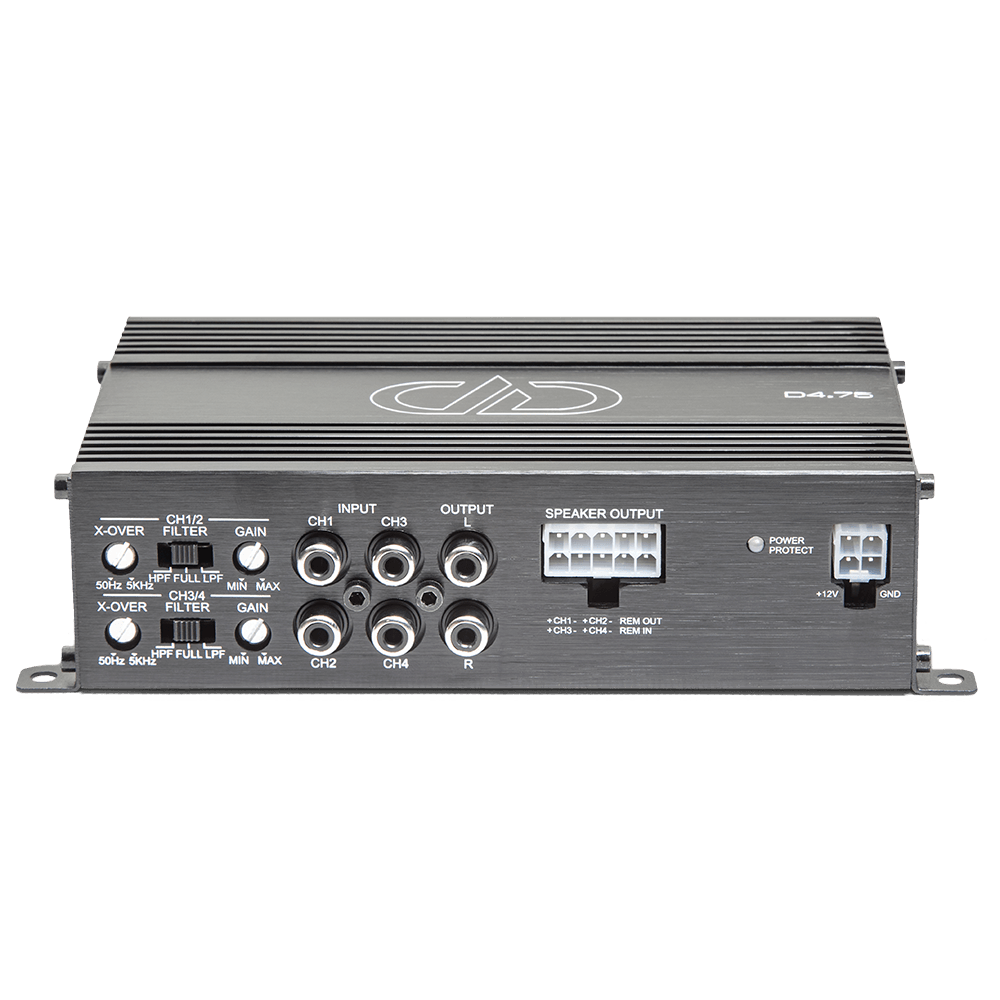 Authorized DD Audio Dealers Near You
The D4.75 is a mini chassis amp designed to make space constrained installations a breeze. Don't be fooled by its small stature; in 4 ohm bridged mode this little powerhouse can produce over 2 x 180Watts.  It also features a conformal-coated PCB for added moisture and dust protection in harsh environments; making it perfect for motorcycles, UTVs, and boats.
All controls and connections are located on one side for ease of installation in motorcycle fairings, dashes, under seats, behind seats or in consoles.
Conformal Coated PCB
5-way Protection
Variable 12dB/Oct
Heavy Duty PCB
RCA Signal Pass-through
MOSFET Power Supply Amplifier
Test Voltage:

14.4

Channels:

4

Cont Wattage @ 4ohm:

75 x 4 / 180 x 2

Cont Wattage @ 2ohm:

90 x 4

Max Current Wattage Draw – Amps:

40

RCA Input Sensitivity (Volts):

6V ~ 0.2V

RCA Input S/N:

> 90dB

THD:

< 0.2%

Pass-Through Output:

Yes

Remote Subwoofer Control:

No (Remote Sold Separately)

Power Wire Gauge – In:

2 x 18

Speaker Wire Gauge – Out:

18

Dimensions (In):

6.2 x 3.9 x 1.7

Dimensions (MM):

160 x 100 x 45

Shipping Weight (Lbs):

2

Price (USD):

315
The D Series Multi-Channel amplifiers are designed to be the best amps on the market for the everyday mobile audio enthusiast looking to power their mids and highs or their entire system. These multi-channel amps feature compact chassis, superb sound quality, reliable circuits, and powerful output sections.
Resources