SS4b
SS4b
MULTI-CHANNEL POWER!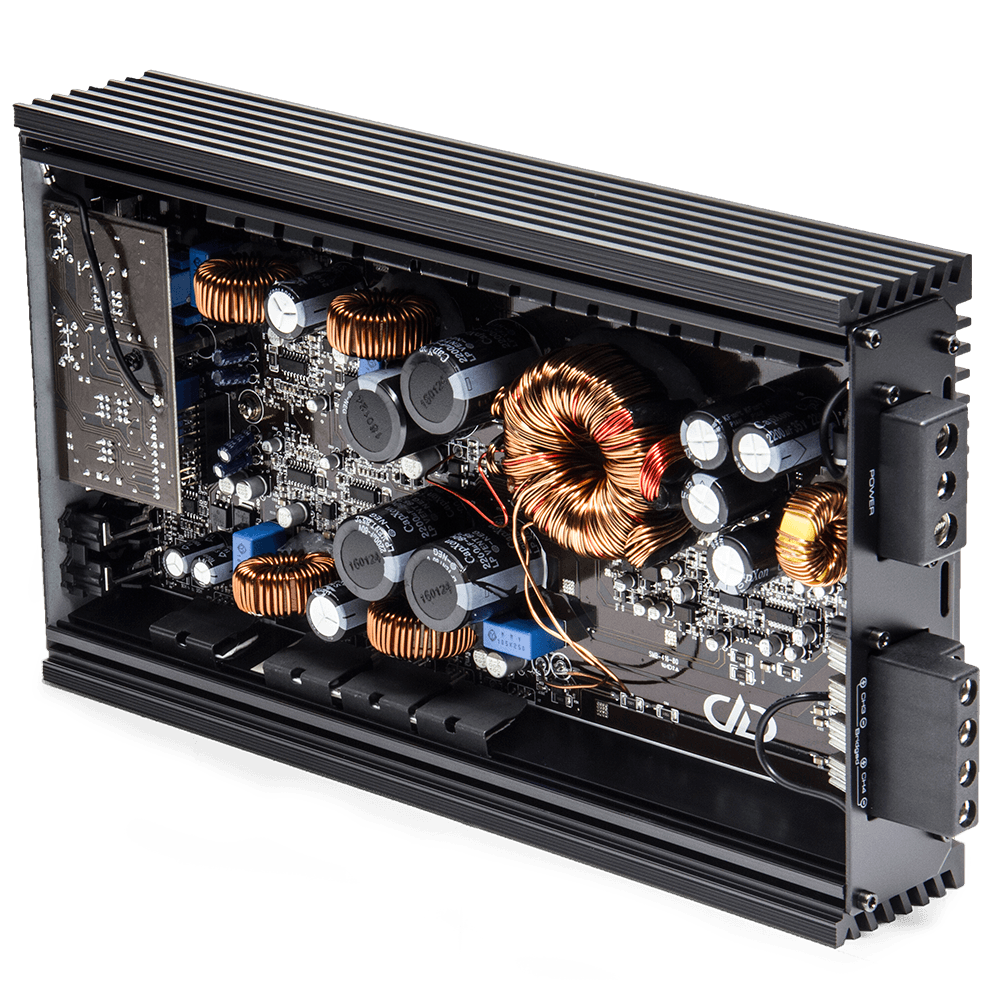 Authorized DD Audio Dealers Near You
Sound Quality Rivaling Class AB Amps:
The SS4b is a discrete circuit full range class D amp that can crank out over 350 Watts per channel at 2-ohm stereo, with less than 1% THD+N. All this power fits into an SS chassis measuring only 6.875″ wide by 11.81″ long. By using discrete class D circuitry instead of a chipset we were able to get ultra-low distortion AND high power, contrary to the majority of small chassis class D amps on the market today. Not only does the sound quality of the SS amps trump other class D designs, they rival high-quality class AB designs.
Take the SS amp challenge, compare the sound of an SS amp to similar power class AB amps and you will experience the future of high efficiency AND high fidelity.
Versatility:
SS amps feature individually selectable high pass and low pass crossovers with frequency bands from 50Hz-5kHz, making them adaptable to virtually any system configuration. We used heavy duty set screw blocks for speaker and power terminals to ensure connections are solid and durable.
SS amps are smaller, more powerful, generate less heat, and just sound better than other class D amps on the market. This makes them the ideal choice for today's space cramped interiors.

Test Voltage:

14.4

Channels:

4

Cont Wattage @ 4ohm:

250 x 4 / 700 x 2

Cont Wattage @ 2ohm:

350 x 4

Max Current Wattage Draw – Amps:

110

RCA Input Sensitivity (Volts):

8 - 0.2

RCA Input S/N:

> 105dB

Pass-Through Output:

No

Remote Subwoofer Control:

Yes

Power Wire Gauge – In:

4

Speaker Wire Gauge – Out:

10

Dimensions (In):

11.81 x 6.88 x 2.14

Dimensions (MM):

300 x 175 x 54.5

Shipping Weight (Lbs):

11

Price (USD):

690
For the SS Series the main design focus was to pack as much full-range stereo output capability as possible into as compact of a chassis as possible. We utilized discrete circuit class D technology for ultra low distortion levels that rival class AB designs. The resulting amp is capable of driving multiple driver mid-range and tweeter arrays while consuming less current, taking up less space and delivering more power.
Resources