Install Highlight – Ford F-350 Sound Upgrade – Option 3.1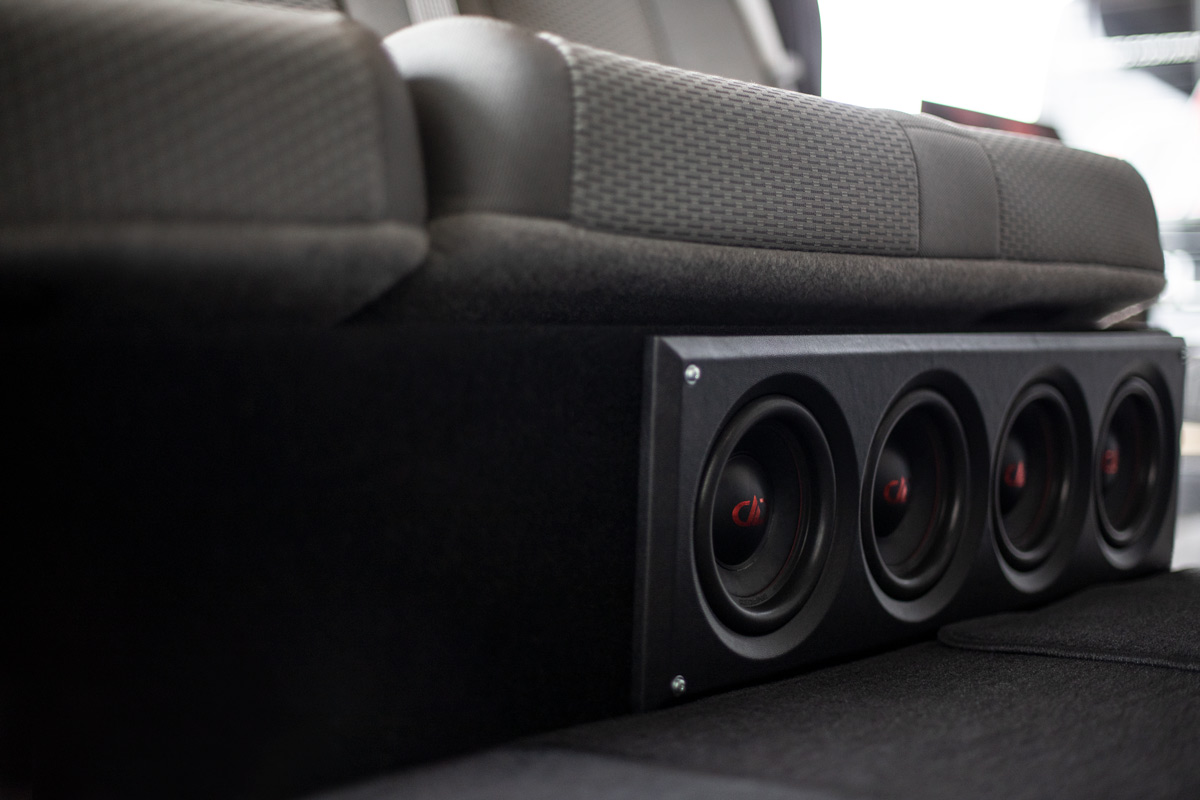 Install Highlight – Ford F-350 Sound Upgrade – Option 3.1
November 6, 2018
Last month's Install Highlight featured an OEM upgrade for established hip hop recording artist, public speaker, restaurateur and DD Audio Brand Ambassador, Jabee. This month, DD Audio is upgrading the sound of the 2018 Ford F-350 that they use to haul the DDKONG demo vehicle from place to place.
The DD Audio Demo Team spends a lot of time in the F-350, so they wanted to give a major boost to the audio system. Since this was going to be a utility vehicle, they didn't want or need to make major customizations so it was quickly decided that this job called for one of DD Audio's pre-configured OEM upgrade options which can be found at DDAudio.com/oem. After reviewing the options Lewis and Aaron (builders of the DDKONG), decided that Option 3.1 with some slight variations would best meet their wants and needs.
Option 3.1 from the Upgrade Your SoundTM guide consists of:
1 x DSI-2 – Signal Processor
1 x D5.1500 – 5 Channel Amplifier
2 x 610 REDLINE Series Subwoofers
1 x DC6.5 Component Speaker Set
1 x DX6.5 Coaxial Speaker Set
All Connected with the DD Audio Z-Wire RCA System
For ease of installation the guys substituted DC6x9s in place of the DC6.5s because 6×9 was the factory speaker size in the front doors. This allowed for a simple drop in installation. In place of the two 610 subwoofers they opted to to use four REDLINE Series 506d subwoofers. By using smaller diameter subwoofers the guys were able to build a custom enclosure that fit perfectly under the backseat where it didn't take up any precious leg room.
Like with Jabee's upgrade, the factory headunit was going to stay in the vehicle, so the process began with determining how and where to properly interface with the OEM audio signal. Next the guys pulled the necessary panels to access and remove the inferior factory equipment.
Following that tear-down, the team installed the premium DD Audio speakers — DC6x9s in the front doors and DX6.5s in the rear doors. In true upgrade fashion, they were seamlessly mounted in the exact same spots as the factory equipment without modification. With the speakers replaced and the factory panels back in place the DSI-2 signal processor and D5.1500 amplifier were added to give the system more power, a cleaner signal flow, and more control over the sound sculpt. Finally, the four REDLINE Series 506d subwoofers loaded into the custom built under-seat enclosure, which was put into place. After everything was reassembled the cab looked completely untouched!
With some quick tuning using the DSI-2 smartphone app, the guys were able to crank up the music! Thanks to the simple OEM upgrade, long hauls across the country have never sounded so good!