Product Spotlight: EC6.5 Component Speaker Set – The Bottom Line
October 22, 2019
This year the auto industry will spend billions producing quality vehicles featuring the latest technology and per usual, they will see these cars and trucks narrowly sell, recouping the slimmest of margins. With that in mind, it's easy to see how they end up sourcing fast and easy to install equipment for even their most premium vehicles. To the automaker, you're buying a car, not a concert hall. Their product is well engineered and, in fact, they probably spend more time engineering this equipment than we do, but their audio goals are different than yours. They want fast and easy to install equipment. Our goals at DD are point blank: How good can we make this at an affordable price? There is no better example of this approach than the EC6.5 Component Speaker Set, which offers superior quality and premium features at an entry level price, making them the perfect choice for casual audiophiles on a budget and the perfect topic for this month's Product Spotlight.
In case you missed it, last year DD Audio featured the new (and pricey) pick-up truck used to haul DDKONG across the country in an Install Highlight on the DDownlow. There you can see the awesome OEM Upgrade it received and below you can see the door speakers that were pulled from the loaded 2018 Ford F-350 (left) next to the 6.5 inch woofers included in DD Audio's least expensive component set, the EC6.5 (right). Your eyes are not playing tricks on you and the factory speakers haven't been stripped down. This is the typical side by side comparison that professional installers see all day.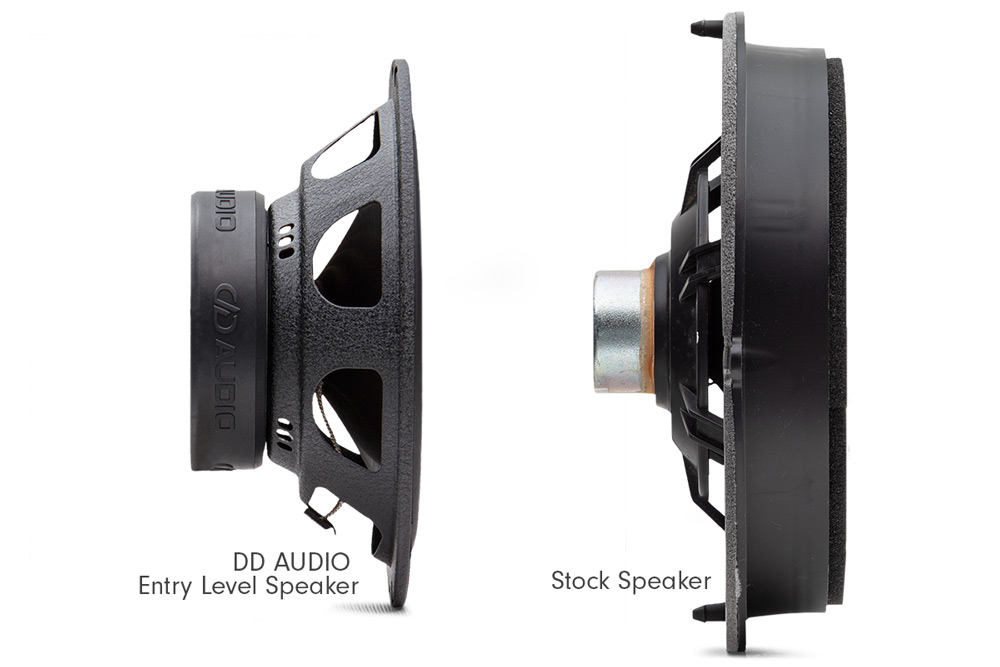 Check out the EC6.5 woofer's high flux eleven ounce ferrite motor next to that tiny fridge magnet. Compare it's injection molded poly cone, rubber surround, and rigid steel frame to the cheap paper and plastic combo. Also missing from the factory speaker is the reduced inductance, extended high-frequency roll off, and increased efficiency you'll get on the EC6.5 thanks to it's double slit former and shorting ring.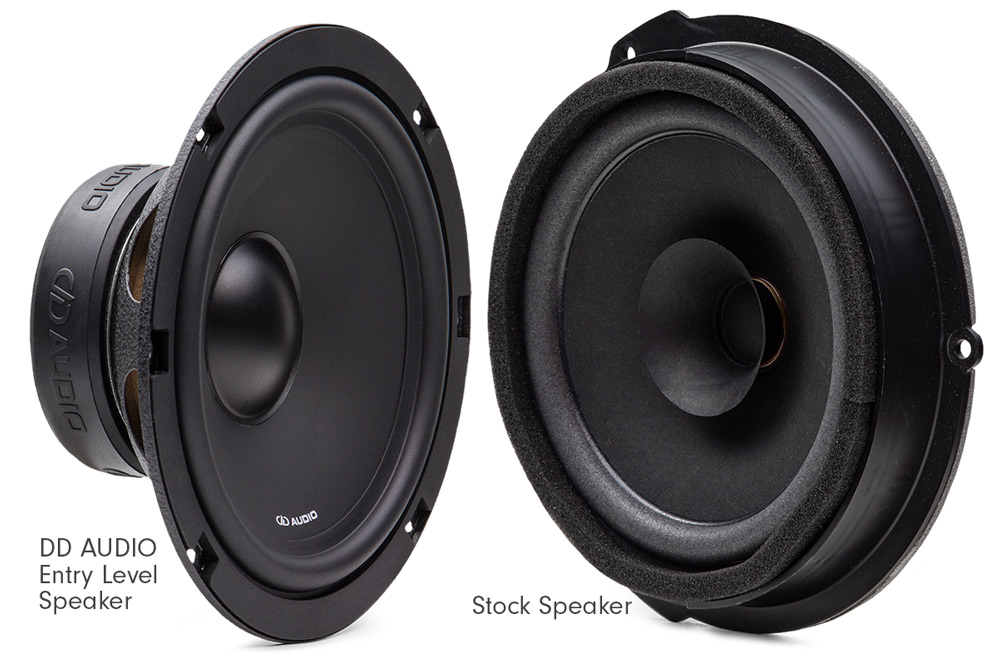 The EC6.5 Component Sets also includes two 20-mm silk dome tweeters, offering both flush-mount and surface-mount solutions, as well as a pair of 2-Way crossover networks, which are built with premium components such as mylar capacitors, segmented air-core inductors and poly fuses for tweeter protection. Two selectable tweeter levels are provided for fine high-frequency tuning.
Seeing isn't always believing, even with a side by side comparison and impressive list of specs and features. For this reason, DD Audio strongly recommends you to visit your nearest Authorized DD Audio Dealer and ask to hear the difference for yourself.
Driver Size: Woofer 6.5″ / Tweeter 20mm
Watts RMS: 50
Peaker Power: 100
Impedance: S4
Frequency Response – Hz: 50-20k
Mounting Diameter – in: Woofer 5-5/8 / Tweeter 1-19/32
Mounting Depth – in: Woofer 2-1/2 / Tweeter 17/32
Rock Your Stock With OEM Solutions from DD Audio!