CC6.5a
CC6.5a
COMPONENT SPEAKER SYSTEM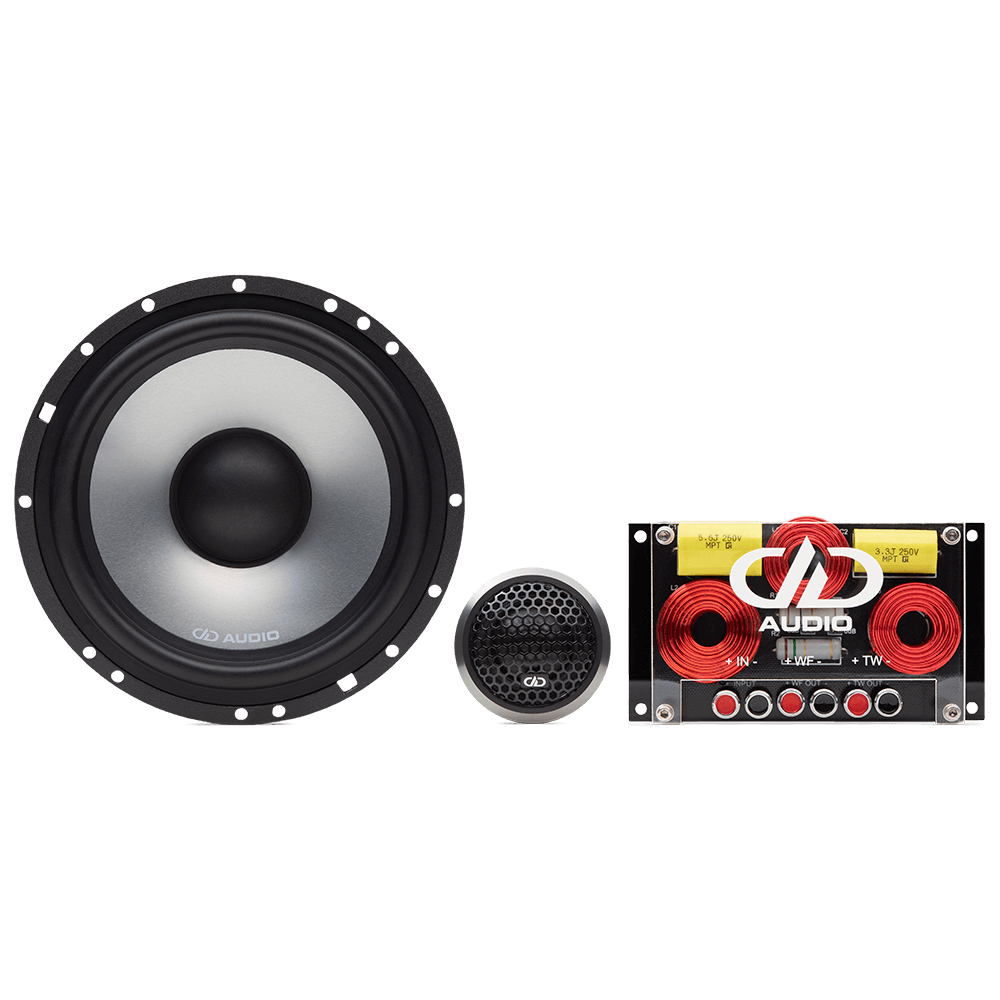 Authorized DD Audio Dealers Near You
The C Series 2-Way Component Speaker System is the perfect balance of high-fidelity refinement and value.
Mid-Woofer:
The 6.5-in mid-woofer features a cast aluminum frame and an aluminum cone coupled with a soft rubber dustcap and surround. This combination results in an acoustically well-balanced speaker that offers superb frequency response while exhibiting warm tonal characteristics.  Additionally, for reduced inductance, extended high-frequency roll-off, and increased efficiency the voice coils feature a double slit former and the motor utilizes a copper pole cap.
Tweeter:
The 28-mm cloth dome tweeter offers a wide/smooth frequency response.  It features an attractive flush mount vented back machined aluminum housing.
Crossover:
The crossover networks are built with premium components, including Mylar capacitors and segmented air-core inductors. Selectable tweeter levels are provided for fine high-frequency tuning.
CC6.5a - Mid-Range
Driver Size:

6.5"

Watts RMS:

75

Peak Power:

180

Impedance:

S4

Frequency Response (Hz):

50 - 20k

dBSPL:

90

Mounting Diameter (In):

5.74

Mounting Depth (In):

2.6
CT28 - Tweeter
Driver Size:

28mm

Watts RMS:

50 - 125

Voice Coil Diameter (MM):

28

Impedance:

S4

Frequency Response (Hz):

3k - 25k

dBSPL:

90

Mounting Diameter (In):

1.89

Mounting Depth (In):

0.5
CX02 - Crossover
Input Channels:

1

Output Channels:

Tweeter / Mid-Woofer

Dimensions (Inches):

5.31 x 2.95 x 1.5

Dimensions (MM):

135 x 75 x 38
Shipping Weight (Lbs):

10

Price (USD):

340

Set
The C Series Components are the perfect balance between high fidelity refinement and value. We utilized many of the same design elements found in the A and B Series Components so they effortlessly deliver outstanding tone, and with the with increased power handling over the D Series Components, you'll be able to realize more powerful response over the entire audio spectrum.
Resources

Aluminum – Double Slit Voice Coil Former

The aluminum former material acts as a heat sink, lowering the voice coil temperature. The double slits in the former break up and reduce magnetic eddy currents generated by the moving coil. The coil design works in conjunction with the copper capped pole piece to further reduce heat, inductance, and harmonic distortions.

Copper Capped Pole Piece

As current flows through the voice coil, it generates its own magnetic field which interacts, or modulates the motor's permanent magnet field. A shorting ring cancels these magnetic field changes and lowers inductance, extending the frequency range and reducing harmonic distortion.
Included in the Box
2 Woofers
2 Tweeters
Woofer Crossovers
Tweeter Crossovers
Tweeter Mounting Hardware