Install Highlight: An SRT-4 Neon, A Dream, and A Little Push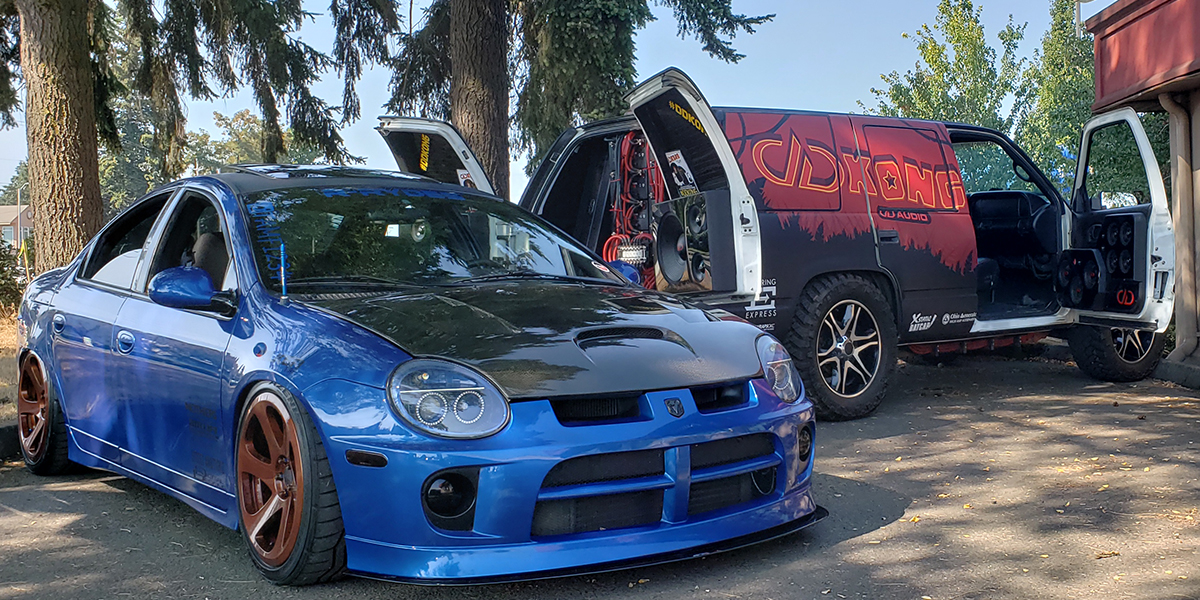 Install Highlight: An SRT-4 Neon, A Dream, and A Little Push
September 7, 2018
INSTALL HIGHLIGHT | WRITTEN BY LEWIS JACKSON | SEPTEMBER 2018
Car audio can be a time consuming habit. Many times a project will get pushed to the wayside, making room for more pressing matters that life can throw our way. On occasion, it takes someone in our lives pushing us to revive the motivation to press on with our dream setups. This case is the latter, with Amanda Mann going that extra mile to initiate the build we have here today.
Our heroine told her husband John that she was taking his older SXT Neon out for a wash and detail, but was secretly bringing home his dream car, an SRT-4 neon in his favorite shade of blue. From that day on, no stone has been left unturned, and the list of mods on this car could choke a horse! In order to do the rest of the car justice, they knew just where to take it. Jim Hergesheimer of Streamline Customs in Vancouver, Washington had the perfect solution for the audio setup in the car, and knew space was at a premium.
Utilizing the back seat area, they were able to delete the radio all together, and use a bluetooth interface to feed signal to the trio of DD amps. The amps chosen were two DD SS2b's, running the setup in the front stage, that flank a DD M2c, which in turn powers the Hi Def Tuned 3500 series 12's. The drivers chosen for the front stage were the B Series components. Every aspect of the audio install reflects the vehicle's true nature of being a purpose built show car. When asked, Amanda shared that her favorite thing about the subs was the ability to have the logos customized to match the paint scheme throughout the vehicle. John, the looming husband in this Husband/Wife build (and the inspiration for the license plates!) also appreciates the way the audio was seamlessly integrated into the build.
Builds like this are rarely "finished" and this one is no exception. When asked about future plans for the build, the dynamic duo state that they have ideas on what direction they would like to take next, and you better believe it will involve more DD Audio equipment.
Thanks to John and Amanda for sharing this awesome Neon SRT-4 with us, and to Streamline Audio for hosting us on the DD Kong Tour 2018. For those who are curious, here's the remaining list of mods to the car:
Sponsors
Falken Tires
Mothers Polish
Air Lift Performance
KSport
Street Ambitionz

Stereo
Radio Delete
Custom Built AMP and Sub Box

Interior
Custom Headliner
Custom LED Dash Lights
Custom Center Bezel
NRG Quick Release Steering Wheel
Push Start
Rear Seat Delete

Exterior
Seibon Carbon fiber Hood
MPX Hood Struts
Carbonetics Custom POV Carbon Fiber Trunk
Hotchkis Sway Bars
Carbon Fiber Vinyl Wrapped Roof
18 x 8.5 Avid AV 50
Falken Tires Azenis RT615X
Custom painted rear diffuser
Spyder Dual LED Halo Projector
Custom Built headlights
Spyder LED tail lights
Custom LED Fog lights

Engine
Mishimoto Radiator
AEM Intake
AC Delete
DC Strut Bars
Battery Relocate
MPX 3″ Turbo Back Exhaust
Torque Solutions Motor Mounts
Custom Heat Shield
Custom Radiator Cover
Custom Battery Replacement Cover
Power Coat
Transparent Copper/Silver
Wheels
Valve Cover
Radiator Cover
Radiator Hose
Battery Tray Delete
Rear Diffuser Fins
Air Tanks
Manifold
Intake Pipe
Strut Bars

Air Ride Setup
Air Lift Auto Pilot V2 Management System
2 – ViAir Dual 440 Compressors
KSports Air Struts
2 – 5 gallon Seamless Aluminum Tanks

Work Done By
Stereo by Streamline Audio
Power Coat by JAR Customs LLC
Lighting by Street Ambitionz
Photo Credit – UrbanArtSkiink
Check out our full line of Subwoofers!