Car Amplifier Buying Guide
August 31, 2021
Choose the right channels and wattage for your application with this amplifier buying guide.
Whether you're on a quest for your first car amplifier or 100th, you'll encounter a slurry of intimidating technical jargon and contradicting opinions that would turn away the bravest of souls. With so much to consider when obtaining the heart of your mobile audio system we felt it would be helpful to offer a bit of amplifier demystification. This car amplifier buying guide will give you the basics to begin narrowing down the choices to what best fits your application.
Things to consider when buying a car amplifier:
Why do I need an Amplifier?
What type of amplifier do I need?
What do all the amplifier specifications mean?
Why should I add an amplifier? Maybe you're looking for a little more volume, a little more sound quality, upgrading to larger speakers, powering a subwoofer, or all of the above. Whatever the case, an amplifier will help you achieve the system performance you are looking for.
Amplifier types: In order to choose the best amplifier for your install we need to decide what role the amplifier will play. DD AUDIO® offers a wide variety of amplifiers allowing an installer the ability to design virtually any system they can dream up. The main two types of amplifiers DD AUDIO offers are Multichannel and Monoblock. From there we can break it down further to 4 channel, 5 channel, monoblock full range and monoblock sub range.

4 Channel – 4 channel amplifiers allow the installer a great amount of versatility. They can be configured to drive 4 speakers; you can use two channels for your mids and highs and bridge the other two channels for a 3 channel setup (mids and highs + subwoofer), or you can bridge both channel pairs for a powerful 2 channel setup.

5 Channel – This do-it-all workhorse is a 4 channel amplifier with a dedicated monoblock sub channel built into the same chassis. You run 4 speakers, and the subwoofer or you can bridge the 4 channel portion and use it as a mega 3 channel!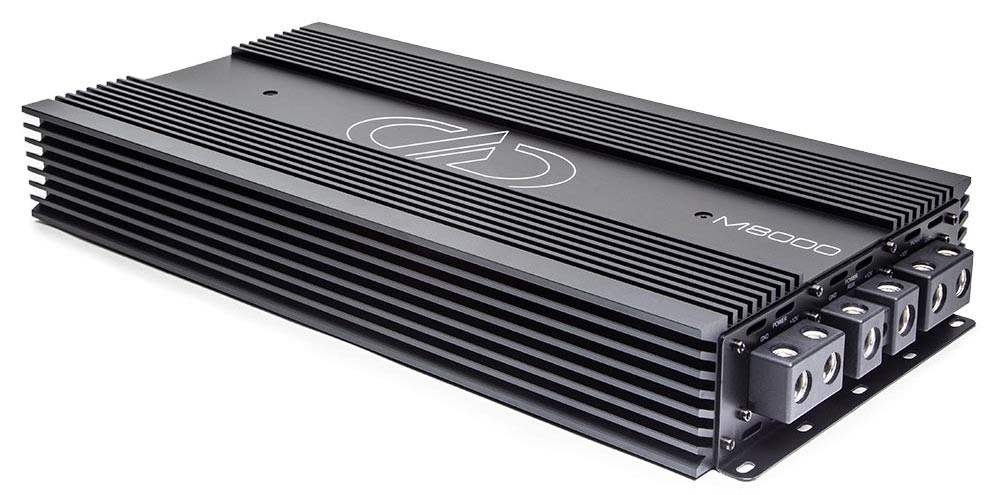 Monoblock Sub Range – These amps are specifically engineered for one purpose and that's to get the most out of your subwoofer. Since these amplifiers don't have to worry about playing mid range and high range audio the internal components and circuitry can be designed specifically for the rigors of high power bass amplification.
Monoblock Full Range – This often misunderstood type amplifier is a hidden gem of versatility. Just like the monoblock sub range amps these amps can pulverize your sub stage, but their other neat trick is the ability to be paired with large full-range systems such as pro audio setups, boat towers, power sports tops, or high SPL applications.

Amplifier Power Specifications: One of the quickest ways to assess what an amplifier has to offer you is to review the published specs, but what do the specs mean? For many people, myself included, reading a list of data not in your wheelhouse is mind numbing, and 2 lines in you realize there are plenty more entertaining things to do. Here we'll break down how to interpret the amplifier specs you'll find listed on DD Audio's website. You'll also find these same basic specs listed for the majority of amplifiers on the market.
Continuous Wattage 4 Ohm, 2 Ohm, 1 Ohm; Also called RMS Power: Often this is the only number that sticks with people; POWER! Let's call this the horsepower of the amplifier! DD Audio starts the data off with continuous wattage (aka watts). Continuous Wattage is the measure of what the amplifier will comfortably run power for extended amounts of time.
Dynamic Wattage: This is also sometimes called Burst Power or Peak Power and refers to short ideal situation power delivery. Brands publish this spec to show customers the highest possible potential of the amplifier. It is not recommended to use this number as matching criteria for pairing speakers and amplifiers.
Max Current Draw: This specification is used to help you better match the amplifier to your charging system. The amperage rating allows you to choose the appropriate fusing, and to make sure you have the correct battery and alternator arrangement to properly support the amplifier's current needs.
Test Voltage: This represents the voltage at which the amplifier was tested at when recording the listed specifications. Most commonly you will see 12 volts to 14.4 volts; this is the average charging voltage of your typical automobile with factory alternators.
Channels: This field will inform you of the number of separate amplified channels the amp has. 1 channel, 2 channel, 4 channel, and 5 channel amplifiers populate DD AUDIO's line up.
RCA Input Sensitivity: This is the measurement for the amps acceptable input voltage range. For example: .2v to 8v is the usable range of signal from something like a head unit, processor, or line out converter. It is important to not supply the amplifier with preamp voltage over this rating because it can cause distortion in your sound and possible harm to your equipment.
Frequency Response: This set of numbers helps determine what type of speakers and amplifier it will be best suited for. Some amplifiers are considered full range and will easily play from 20Hz -20kHz.
Low frequency ranges (20Hz-250Hz) are best for subwoofer and woofer duties

Mid frequency ranges (250Hz-2kHz) are best for midrange speakers

High frequency ranges (2kHz-20kHz) are best for upper midrange and tweeter speakers
RCA Input S/N: The Signal/Noise relates to the input or preamp section of the amplifier. It is the measured ratio of the desired input signal to the level of undesired signal generated by the amplifier's preamp. The higher this number is, the better.
Damping Factor: This is the amplifier's ability to control the connected speaker's motion. A higher damping factor can help keep the connected speaker's response crisp and clean.
THD: Total Harmonic Distortion relates to the output section of the amplifier. The lower this number is, the less added noise from the amplifier's components there is, and the more accurate the reproduction of source material will be.
Pass-Through Output: A pass-through output provides a low level RCA output signal that enables you to add another amplifier to your system, without running another RCA cable through the vehicle. Think of this like an RCA splitter.
Power Wire Gauge: This is the cable size the power/ground terminal on the amplifier accepts. This is something to take notice of because the size of wire going to the amp relates the amount of current that can be delivered to the amplifier from the charging system. For instance, if an amp is rated for 2000 watts, but only has an 8 gauge power terminal, don't trust the power rating.
Speaker Wire Gauge: This is the speaker wire size the speaker output terminal accepts. Once again if the wire gauge is small and the power rating is big, don't trust it.
The primary goal of this Car Amplifier Buying Guide is to take the intimidation out of the amplifier buying process. Whether you're going BIG or simply upgrading your factory system, we want to make the time spent in your chariot amongst the commuters more enjoyable and fold you into our passion of mobile audio!
If you still have questions, DD Audio has some tools to help guide you along the way. You can check out our Car Speaker Buying Guide, contact our customer service team or you can use our authorized dealer locator tool to find a DD AUDIO Dealer near you that'll be ready and willing to assist with all your amplifier buying needs!
Thank you for reading this Car Amplifier Buying Guide!