Shop Name: F/X Audio Ltd.
Shop Location: Spruce Grove, AB
Owner's Name: Raymond Choy
DD: How long have you been in business?
Raymond: We have been in business since 1995, so coming up to 25 years this summer. I think they call this the silver anniversary.
DD: How did you get started in car audio?
Raymond: I started getting into car audio when I was 15, this was before I could even drive mind you. It all started with a harmless demo in one of my friend's older brother's friend's vehicle. I was hooked on bass from that moment forward and immediately started researching and learning about car audio.
DD: What made you decide to do car audio for a living?
Raymond: When I started I was building subwoofer enclosures and doing installs out of my parents' garage. This was still a hobby for me, as my initial dream was to become a doctor, specifically a brain surgeon. However when I was in my 3rd year of University I came across an opportunity to become a silent partner in a car audio company "F/X Audio". I thought to myself this would be a great investment, and if nothing else, I would ensure myself a summer job while I was in school. However the person that I had become partners with at F/X Audio was not such a good partner and ended up ripping me off. So I had a choice, continue with school and take my loss at F/X Audio or quit school and take on F/X Audio as my new dream. Obviously since F/X Audio is still here and we have been blessed to do a Dealer Spotlight with DD Audio, I chose the latter of my 2 options. I definitely do not have any regrets as this dream has provided for myself and for my family. It started small and has now grown into 2 store fronts, with a total of 8 staff between the 2 stores. Not all staff were featured in our staff photo. Sorry guys!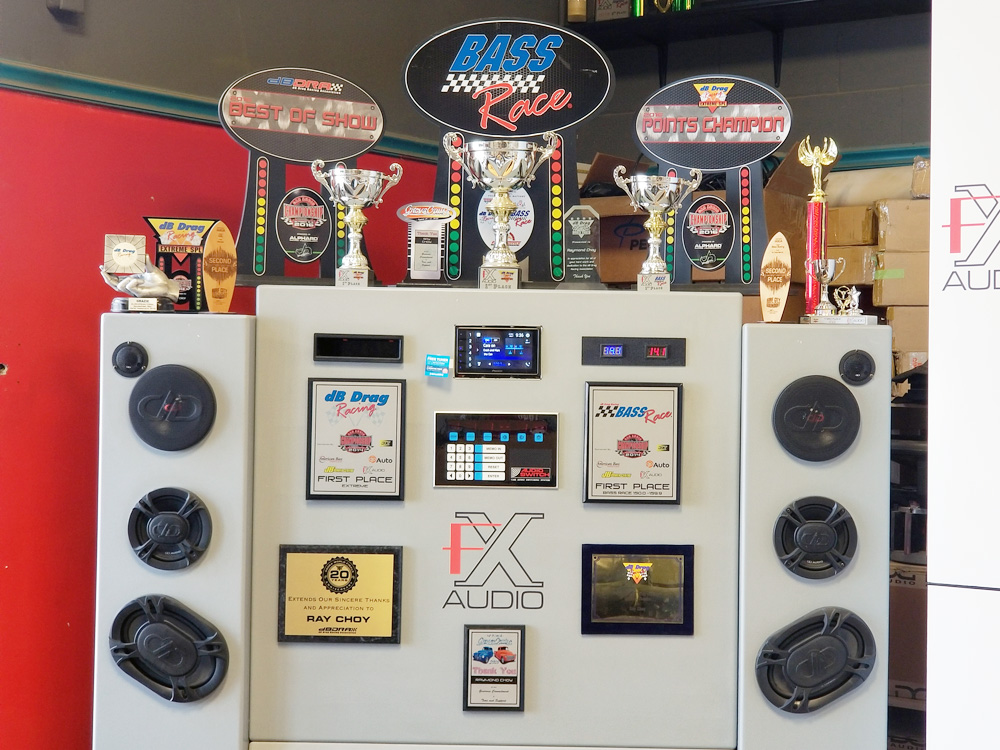 DD: Does your shop specialize in anything specific?
Raymond: Our slogan at the store is "NO PROBLEMS, ONLY SOLUTIONS " as in our minds there is always a solution we just need to find it, then figure out how much it costs in time or money to make the solution come to fruition. As for specific specializations, I would venture to say we are specialized in building big bass competition systems. Having competed in many dB Drag Racing world finals events, and having had customer vehicles also compete at that level I would definitely lean towards big bass competition systems as our specialty. Also I am an internationally travelled dB Drag Racing judge so I have been all over the world judging and hosting dB Drag Racing events.
DD: Where did you first hear about DD Audio, and why did you decide to become a DD Audio Dealer?
Raymond: We first found DD Audio in 1998 when we migrated from IASCA sound quality competitions to dB Drag Racing SPL competitions. The need for larger bigger better subs to produce maximum SPL was a necessity, and from that time forward we have grown with DD Audio. I guess that means we have been a DD Audio dealer for 22 years. Wow all this fun and time just flies by. It has been a great journey for sure. Currently my son has come on full-time with us and the succession plan is to have him take over the business when my time to exit comes.
Do what you love and you will never work. Life is a journey not a destination, find your journey.
Check Out The New Tech Talk YouTube Series