There is just something about old school muscle. It is unapologetic in its simplicity, yet undeniable in its presence. The owner of this month's featured vehicle understands the power and allure of a muscle car, and spared no expense bringing this beauty back to showroom condition. When it came time to put the final touches in place, he turned to the experts at Reference Audio Video, and they did not disappoint.
The owner of the car had a vision for what the 1968 Chevelle should be from the day he dug it out of a coulee. Most folks with even a passing interest in American muscle know that shows are the best place to celebrate yesteryear with like minded enthusiasts. Spend enough weekends sitting around your vehicle at a show and it quickly becomes apparent that having your own tunes can make or break a long afternoon. This is where the trunk mounted speakers and head unit control module come into play, only one of the primary design parameters for the stereo, along with overall performance and serviceability. One of the finer points of the build was like icing on the cake to a discerning eye: the ability to have his sub custom made to match this example of Detroit Iron really sealed the deal on this build, especially with the owner knowing for certain his custom creation would not likely be duplicated.
Despite the car itself being the showstopper, Reference Audio Video knew that the system should demand as much attention, and filled the vehicle with little subtle custom focal points to allow viewers to see the vehicle and its build in its entirety without experiencing sensory overload. The laser etched windows handle this splendidly, with just enough backlighting to be seen, but not be obnoxious.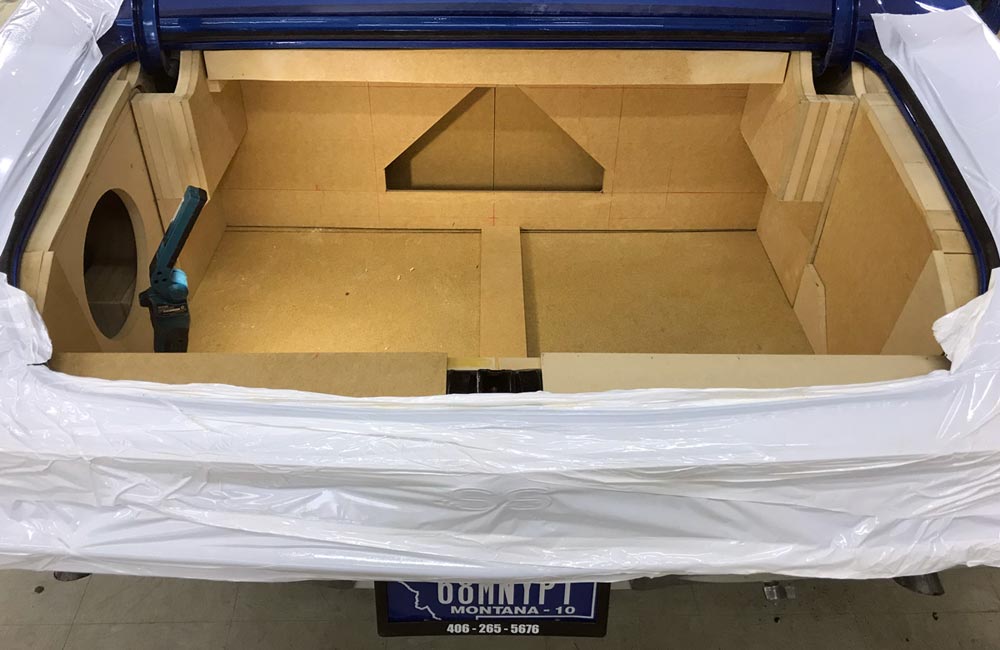 Despite being one of our newer authorized dealers, Reference Audio Video have really got behind the DD Audio brand, realizing that with our comprehensive list of available products made it possible for them to narrow the number of companies they source their merchandise from, while simultaneously increasing the amount of custom work they take in on new projects. As we always say, the proof is in the pudding, and this Chevelle is proof positive that with enough talent, drive, and the right equipment, there are DD Audio products to fit your dream build and take it to that next level. Thanks to everyone at Reference Car Audio for sharing this pavement pounder with us, and keep an eye out! I'm sure we will see more from them in the future!
List of featured equipment:
JVC KD-T900 mounted in the glove box
1x Pair of DD Audio DX6.5 – D Class 6.5″ Coaxial Speakers mounted in Custom AutoSound Kick Panels,
1x Pair of DD Audio DX6x9 – D Class 6″ x 9″ Coaxial Speakers mounted in the rear deck
2x Pair of DD Audio DX6.5 – D Class 6.5″ Coaxial Speakers mounted in the trunk
1x Custom Built DD Audio 1510 SuperCharged – Power Tuned Subwoofer
2x DD Audio C4.100 – C Series 4 Channel Amplifiers running the in car and in trunk speakers
1x DD Audio DM1000a – D Series Monoblock running the 1510 subwoofer
All DD Audio power wire, speaker wire, and RCA's
A line controller to adjust the volume of the trunk speakers independently and a controller in the trunk for radio in the trunk, with a power switch that will turn the radio on from the trunk.
Rock Your Stock With OEM Solutions from DD Audio!