May 18th, 1980. On a calm spring day, a little piece of scenery known as Mount St. Helen's decided to rock our nation unexpectedly. May 3rd, 1999. The largest tornado in recorded history set down and changed how we view tornadoes forever. Hurricanes Andrew (category 5), Sandy (category 3), and Katrina (category 5) in '92, '05, and '12 respectively, blew apart buildings and sunk the land. When events like these collide with our day to day lives, we tend to remember exactly where we were, what we were doing… And after being introduced to the Magnitude 9, you'll find the same thing life-altering experience.
The 2003 Chevy Astro Van known as Magnitude 9 is owned by Conrad Czarnik and is obviously a labor of love. Built in his spare time, nights and weekends over the course of 5 weeks, he started by immediately stripped it down to a bare shell and making sawdust. Beginning at the front of the van, a front battery delete and high output alternator from Mechman were in order. From there, multiple runs of 2/0 were stretched between the lithium banks, totalling 500 Ah of CMax goodness, including runs for a planned future alternator. All told, this behemoth consumed over 400' of 2/0 throughout the process of spinning her into life.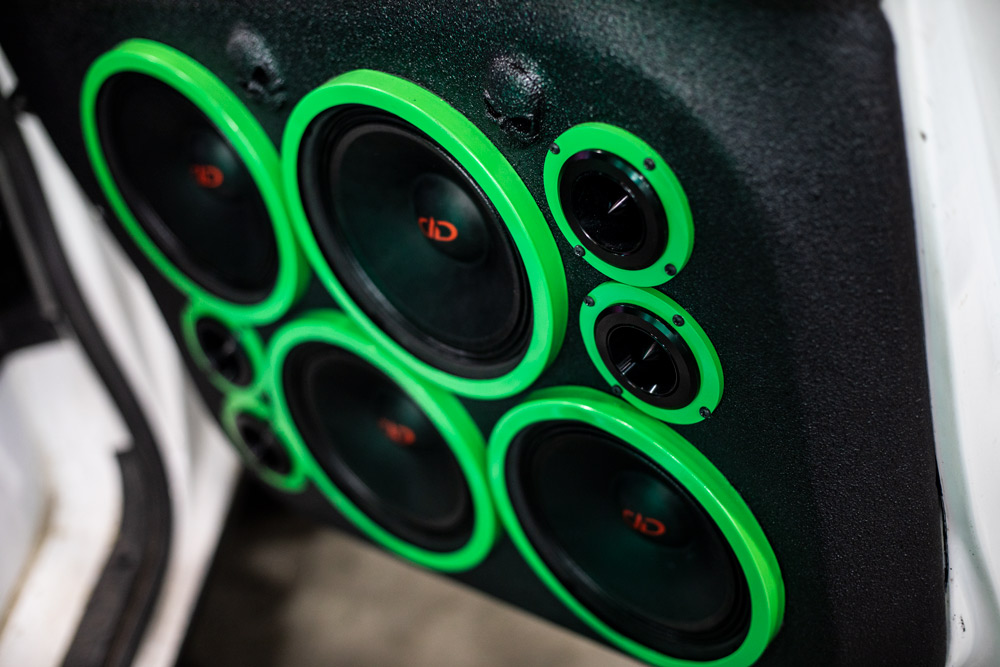 For mids and highs, there is no shortage of weaponry, including eight 8" DD Audio VO-MN8 drivers and eight compression driver/horn combos in the front doors alone! The rear doors follow suit with four 6.5" DD Audio VO-MN6.5 drivers and four matching DD Audio VO-B3 tweeters, so as not to be outdone. All of these are powered by three multichannel DD Audio amps, the D4.100's, producing over 1200 watts! Look closely, and you'll even find a handful of our heavy duty DD Audio VO-B4 tweeters hammering out those highs.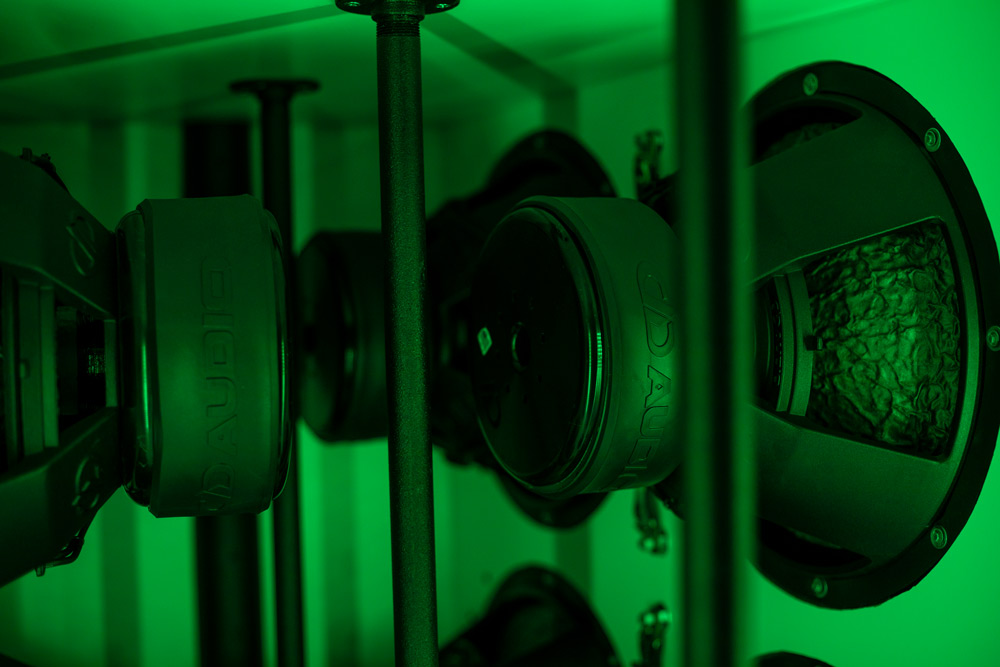 For the fun part, Conrad squeezed eight DD Audio 9518-ESP woofers, and drives them with eight of the venerable M5 amplifiers (below 1 Ohm, at that!). In a large ratio 4th order, it becomes clear immediately why the moniker of Magnitude 9 was chosen. The 1.5" thick plexiglass used on all the displays are all backlit with green LEDs, and there is even a built in 12/14/16v charger from XS Power to keep everyone topped up.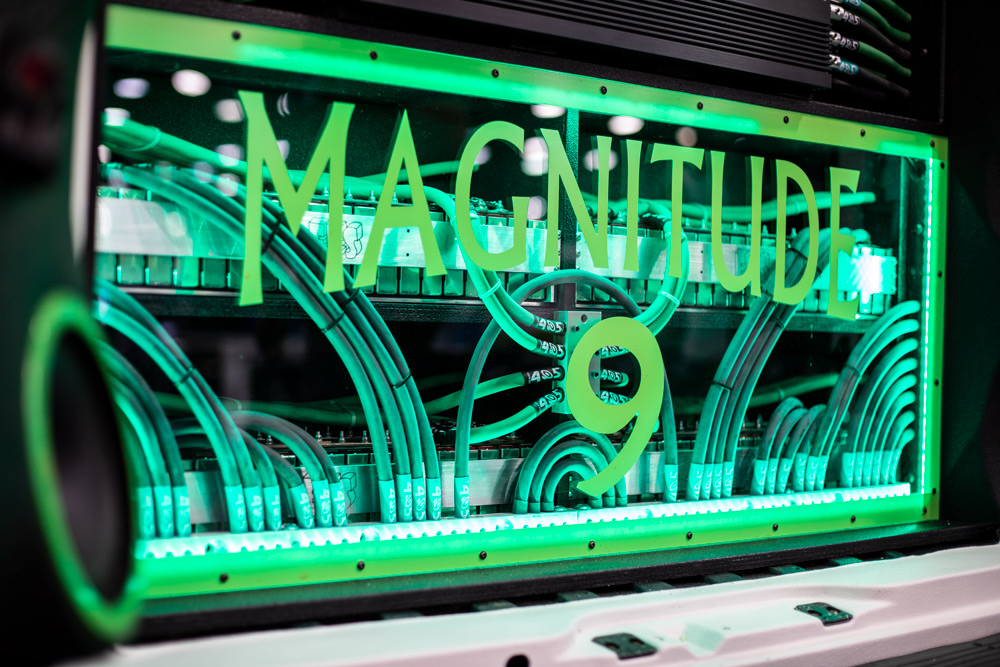 Leaving no stone unturned, everything on the exterior of the van was also upgraded, from the 20" custom wheels, to the clear custom lights, to the paint so detailed everyone thinks must be a wrap. Even the bed-lined grille, bumpers, and accents were given the artisan treatment! Such an insane list to have been completed in just 5 weeks, even with the help from his good buddy, Greg Anderson!
Most of us would be able to leave well enough alone, but Conrad still has plans for the van and we're looking forward to seeing this local build finished out. If you're lucky enough to experience the Magnitude 9 in person, you will leave shook by something profound and unforgettable.
DD Audio Equipment List:
8x VO-MN8 – 8″ Voice Optimized Mid-Range Neo
8x VO-CTAL – Aluminum Compression Horns
4x VO-MN6.5 – 6.5″ Voice Optimized Mid-Range Neo 6.5" drivers
4x VO-B3 – Voice Optimized Bullet Tweeters
4x VO-B4 – Voice Optimized Bullet Tweeters
3x D4.100 – D Series 4 Channel amps
8x 9518-ESP – 18" 9500 Series Power Tuned Subwoofers
8x M5 – M Series Monoblock Amplifiers
INSTALL HIGHLIGHT | WRITTEN BY LEWIS JACKSON | JULY 2019
Rock Your Stock With OEM Solutions from DD Audio!