"We all have to start somewhere…" It is a phrase we have all heard at some point in our quest for audio nirvana. For some, it brought solace in the fact that it is all uphill from that point, but for others it is functionally the death knell. I heard this phrase bandied about liberally during this weekend's festivities at the Surf City Soundoff, and it made me think. We DO all have to start somewhere, but that doesn't mean we all have to start equally. Take, for example, this exquisite trunk install by Driven Auto Salon or DAS of Greenwood, IN.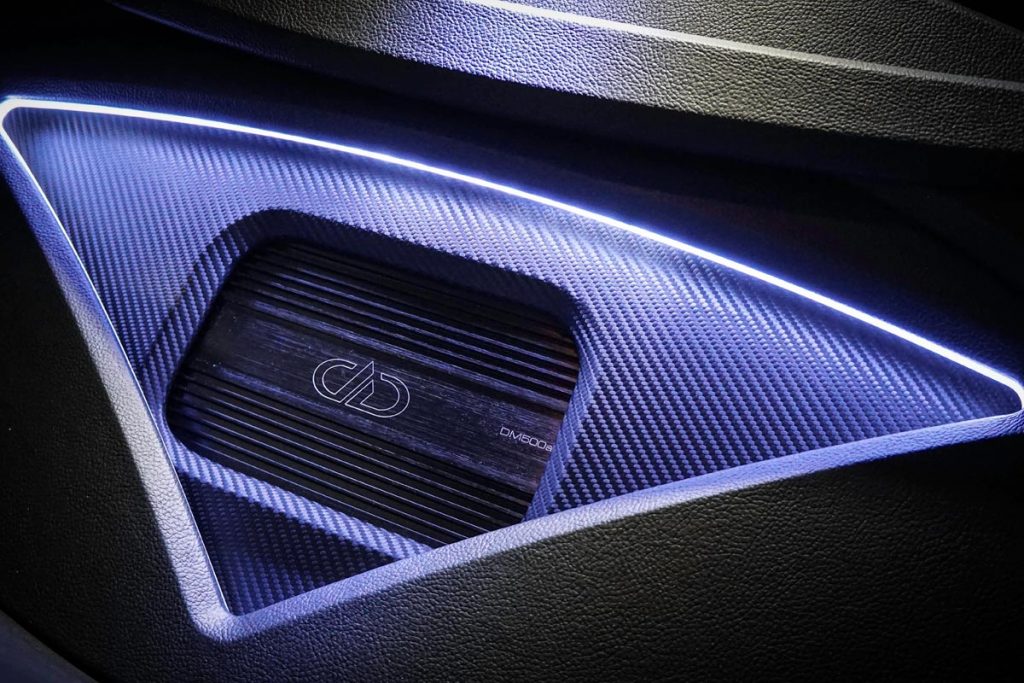 While many of our seasoned fans may consider a pair of value packed 500 Series 10″ REDLINE Subwoofers on a diminutive DM500a D Series Monoblock Amplifier an entry level setup, that doesn't mean it can't look like a million bucks. Despite having added only a pair of subwoofers and a modest powerplant, this trunk is finished out in the most professional fashion possible.

Beginning with the creative use of space to evenly house the woofers, the paneling and trim work really come together to present a high level of fit and finish, as well as a flowing design aesthetic. Subtle details like the texture of the vinyl and the edge lighting effect around the amp take this modest build to a whole new level. It goes to show that basic can be fantastic when properly executed. It takes a keen eyed designer(s) and a highly skilled fabricator(s) to pull something of this detail together, and the results speak for themselves. Jeremy Reed, Kevin Schulfer and Wiley Poppell have really outdone themselves with this install thanks in part to the sales acumen of Martin Gonzales.
We all have to start somewhere. Starting off with a stellar trunk build like this sets a high bar for when the client goes back in to get that future four channel and upgrades to their mids and highs. Luckily, he knows exactly where to take his ride to elevate the rest of the system to the high standard of the trunk build. Thanks again to Driven Auto Salon for proving that basic can be amazing, and that "starting somewhere" can be a thing of beauty.
Rock Your Stock With OEM Solutions from DD Audio!