Shop Name: Maximum Car Audio
Shop Location: Greenup, KY
Owner's Name: Michael Kempton
DD: How long have you been in business?
Maximum Car Audio: 23 Years
DD: How did you get started in car audio?
Maximum Car Audio: I got hired to watch a local Flea Market shop who sold cheap car audio products. He needed someone to watch the shop a few times and eventually it lead to a four day a week job. I felt like I was flying high making $100.00 a week!
DD: What made you decide to do car audio for a living?
Maximum Car Audio: I wasn't getting to do what I wanted and I started getting interested in the idea of installing the car audio we were selling. Since the Flea Market shop left it up to the customer, I felt there was a void in their market. Over time I realized people would pay me to experiment in their cars. Slowly I built a reputation more for the boxes than anything else.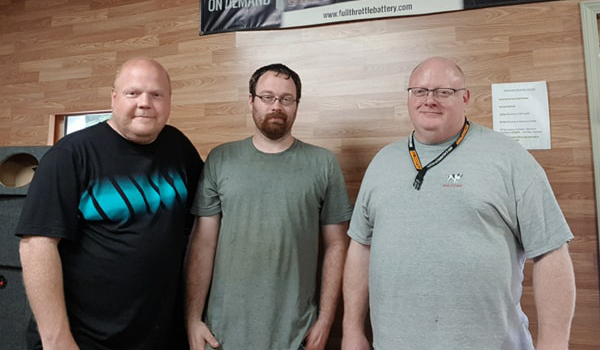 DD: Does your shop specialize in anything specific?
Maximum Car Audio: Custom speaker boxes is what kept us alive when the market was feeling down. For some reason the customers noticed the boxes were built better than the Chinese offerings of the other competitors and I could do little custom things on them to make them unique to that person. Over time I tapped into this market and made it my main drive, which kept us afloat during the 2008 recession. Noticing the market was good even with a slower drive in the economy I chose to get a loan and order a 4×8 Bigfoot CNC kit. I tinkered with it for months before I found a place with it. But after learning this I felt the need for the laser and 3d printer and started integrating these things into my boxes, which meant learning Fusion 360. Now we are able to tap into any market by having the custom set of skills and tools on hand that are required for the jobs that the shops down the street can't give someone. After that it was just "stand behind your work no matter what" and after this many years we have developed the reputation for this area as the top shop while the others have slowly started shutting their doors.
DD: How long have you been a DD Audio dealer?
Maximum Car Audio: This is my second time around with DD Audio and I believe it to be around 5 to 7 years total. One of only 2 brands to ever come back to my shop a second time but I understood it better the second time around and had slowly developed a market for its products in our area. DD's strict policy against online sales made their brand seem less about volume of sales and more about giving the dealers something exclusive to offer.
DD: Where did you first hear about DD Audio, and why did you decide to become a DD Audio?
Maximum Car Audio: I had seen it at SPL events and the old Double D logo stuck in my head. When I grew tired of being shopped on in the early days of EBay I decided to give them a ring and it all started from there. I wasn't really understanding the American woofer drive at the time, so I focused more on only ordering the cheapest product I could get from them in the hopes it would bring the business. It didn't last.
Fast forward approximately 10 years later I had a persistent guy named Kevin Holden that kept insisting we give DD Audio another try. After a few months I contacted him and he helped me to understand the placement for the product better, what I should run with and what I should slowly work into. They gave us support while we worked with our daily customers, doing door speakers and more entry-line products. We soon began to see potential by marketing ourselves differently and studied what other DD Dealers were doing. After many questions we found a comfortable market with the competition scene.