DD Audio, manufacturer of high performance audio products for the masses, is thrilled to announce their official partnership with lifelong custom builder, fabricator, backcountry snowmobiler, and all around outdoorsman Ryan Phillips in his epic construction of the one of a kind SledZeppelin!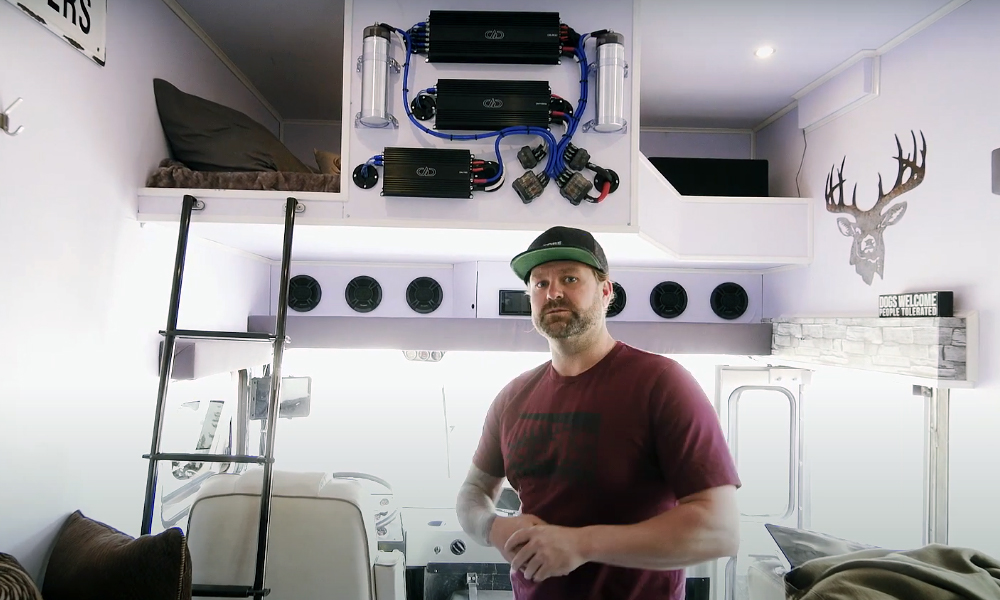 The SledZepplin project started as a relatively simple concept. Convert an old $500 Blue Bird school bus into a "sled-hauler" (typically a truck and/or trailer designed to transport snowmobiles). But once the school bus arrived at his shop in the early summer of 2019, its true potential was recognized. With the help of his girlfriend, Caitlin Lehr, planning began immediately. From designing to resource acquisition to demolishing, they worked until September just getting ready for the monumental task of converting the bus into a spacious home on the road with choice amenities, as well as the capacity to haul and maintain snowmobiles, equipment and gear.
For Ryan Phillips who has been building and fabricating since he was a kid working with his father, nothing was impossible. To him, SledZeppelin was a start-to-finish labor of love that he could share with friends. Matt House was his go to for all things electrical, Glenn Douglas helped with anything mechanical, Palemon Reep made short work of framing and construction, and Cailin was working with him on every detail from the beginning to the final touches. Six months later, the SledZeppelin was road-ready and camera-worthy.
The quality sound coming from this mammoth creation is all DD Audio. Six EX6.5 E Class Coaxial Speakers and an LE-M12 Loaded Subwoofer Enclosure fill the cabin area, while four EX6x9's are used in the sled bay. An additional two EX6.5 speakers are mounted to the exterior to bring the music outdoors. All of this is powered by two 4-channel D4.100 amps, one 6-channel D6.500a amp, and a DM1000a monoblock. The wiring was done with DD's Z-Wire power and speaker cable.
Ryan came to DD Audio after doing his research. He was impressed by the brand's reputation for performance and uniqueness. After hearing the quality for himself, he's planning on incorporating DD products into his snowmobiling and off-roading vehicles going forward. To keep up with SledZeppelin on tour, follow Ryan's Instagram.
Check out the Audio Gift Guide to find that pitch perfect present for Dad!