PRODUCT SPOTLIGHT: EA-3.1 Energy Attenuation Material – Really, Really Sticky Stuff!
August 16, 2019
Generally unseen by the end-user who opts for the complete audio upgrade is a magical product known as sound-dampening mat, and DD Audio's EA-3.0 has been the go-to choice for discerning installers since it first rolled out a little over 3 years ago. For this month's Product Spotlight, we offer an in-depth look at DD Audio's newly revised and upgraded energy attenuation material, the EA-3.1, which provides superior performance and ease of installation.
From the factory, most cars have very basic sound-dampening materials onboard to lessen common noises. As usual though, the auto manufacturers don't take aftermarket upgrades into consideration; and we know for a fact some drivers like loud and clear music, well beyond what a factory system can provide, to fill the entirety of their vehicles. This requires builders who go big on a system upgrade to address how all this extra sound will be managed, otherwise, lows will turn into clanking noises, mids reflect like a blinding light off a mirror and the high pitched tones ricochet like dangerous projectiles. While all this may achieve desired loudness it interferes with the musicality of what's being played.
DD Audio's EA-3.1 Energy Attenuation Material offers advanced interior shielding from unwanted road noise while also reducing internal vibration and noise reflection that can be caused by the massive sound output of a DD Audio system. At 3mm Total Sheet Thickness, EA-3.1 material is twice as thick, but just as light as most brands' dampening materials. Additionally, the layered design of specially formulated butyl rubber and polymer composite reinforced with 100 microns of aluminum ensures that it outperforms thicker and much heavier materials of lesser quality. The ultimate result is a soundscape capable of delivering True to the SourceTM audio.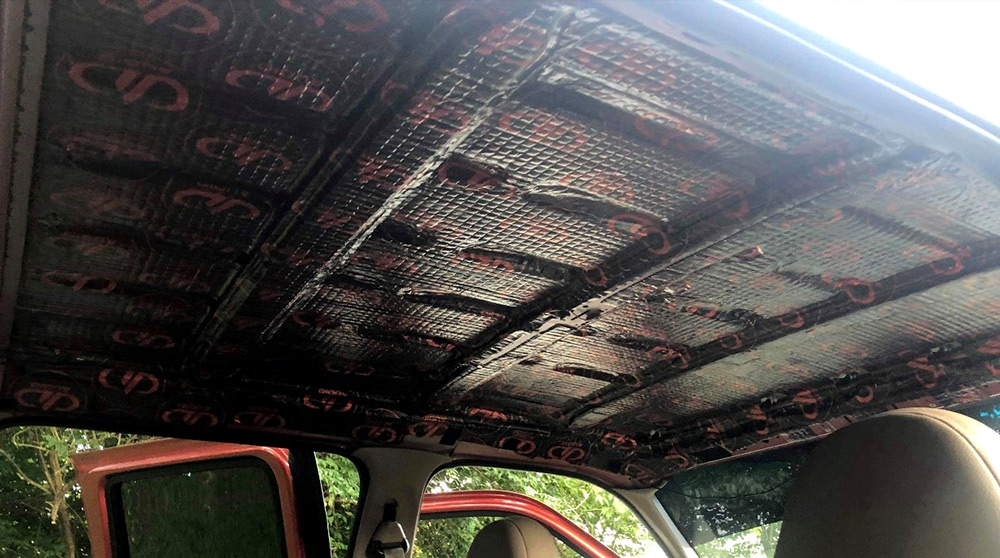 Photo: EA-3.1 Install by @ Custom Enclosures Car Audio inc. in Bristol, Virginia
While this product is for the audiophiles and bassheads who want the experience of acoustic bliss and sonic blasts, DD Audio gave every bit as much consideration to the Authorized DD Audio Dealers who most often perform the difficult work of installing and concealing energy attenuation materials in their custom builds. The newly upgraded EA-3.1 offers stronger contact activated self-adhesion, a more manageable width, better surface conforming with an embossed top sheet, and even greater resistance to high temperatures. All of these features combined make this material a breeze to apply, cut, and tuck under any panel placement. As an added bonus, the EA-3.1's jet black aluminum top sheet adorned with sweet shiny red DD Audio logos looks so good once it's installed you might not want to put the trim panels back on.
If you're wanting a next level build, ask your local Authorized DD Audio Dealer about DD Audio's EA-3.1 Energy Attenuation Material.