Summing Summarized
April 19, 2016
As the technology available in today's OEM car audio systems progresses so must the technology offered by aftermarket audio companies. Many new cars come out of the factory equipped with all sorts of radio features like bluetooth, backup cameras, touch screens, and sometimes even automated driving functions. However, regardless of the price tag, most OEM car audio systems fall short of what the owner was hoping for. Even a "premium" audio package can produce a thin sound that leaves the listener wanting more. Most importantly, with all that fancy technology doing what it does, the amount of money needed to change out a OEM radio while retaining functionality is higher than ever. Most of the time, other than a few RCA outputs, this new radio adds nothing that wasn't already there.
So, what's a person to do if they desperately want to upgrade their sound system without sacrificing OEM functionality and looks? Well, luckily DD Audio is here to save the day with devices like the DSI-1 and SC4.1! These devices provide the key component to conquering complex OEM car audio systems with a little thing called summing.
Until recently, aftermarket integration was pretty simple and summing wasn't necessary. OEM systems used inline crossovers that usually hung out somewhere near the speakers they were affecting and the signal flowing from the radio to said speakers was full range until it met the crossover. This basically meant that you had access to a full range speaker level signal in multiple locations around the vehicle.
Unfortunately, the OEM systems of today are not so simple. Many systems use external amplifiers that receive a low level signal or data transmission from the radio that is crossed over and divided before amplification. In this scenario everyday high to low line output converters won't work because the outputs from the amplifier are separated into various frequency ranges tailored to individual speakers, i.e. hooking a LOC to the sub output only provides low frequencies, tweeter outputs only provide highs, etc.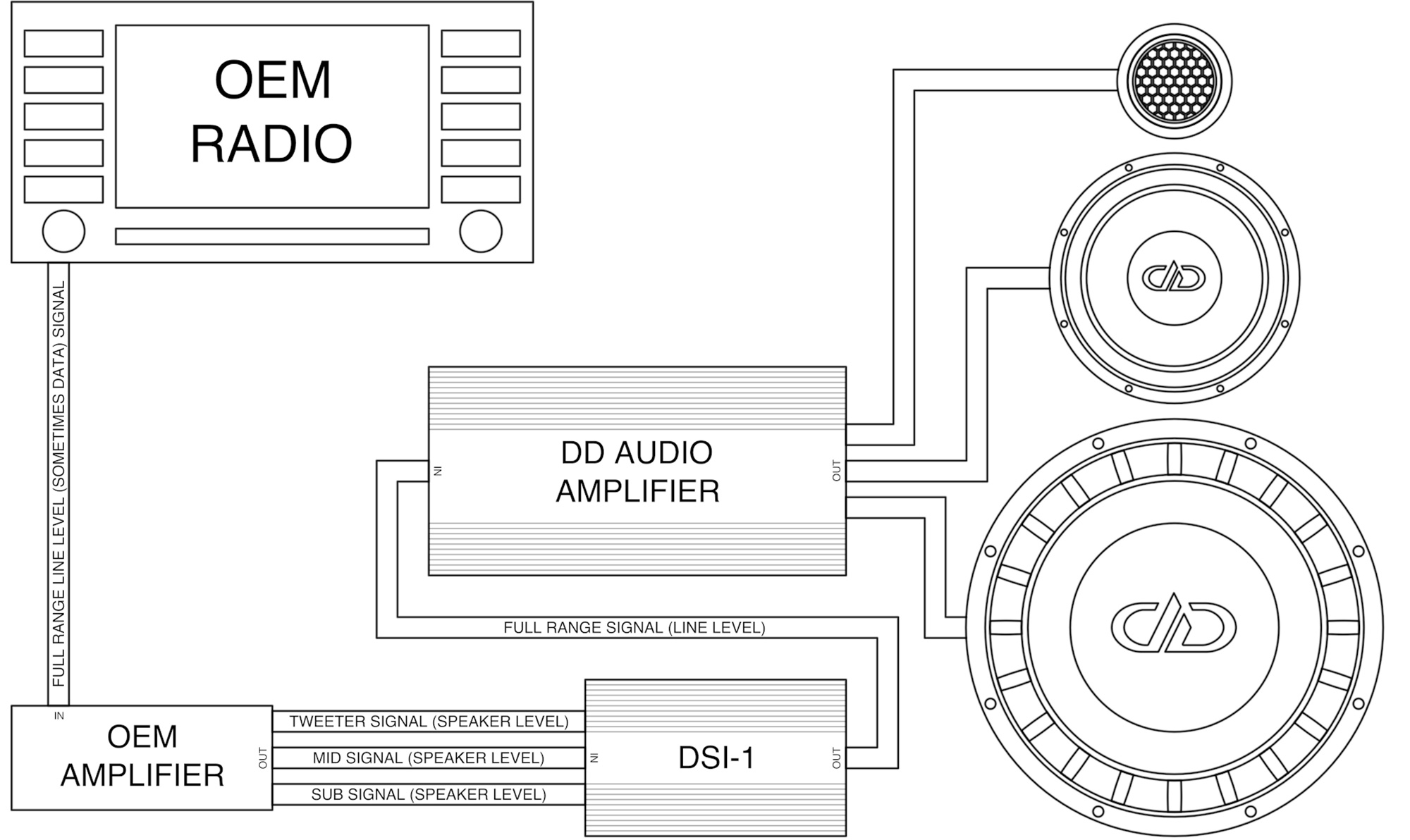 This is where summing comes into play.
The DSI-1 and SC4.1 have the ability to combine multiple outputs with varying frequency ranges back into one full range signal usable by aftermarket amplifiers. This technology allows for OEM car audio systems to remain fully functional and mostly unmodified while providing the basis for a car audio system that outperforms any premium OEM audio package tenfold. Once a DSI-1 or SC4.1 has been installed your vehicle becomes a blank canvas for a lifetime of unlimited audio customization. Contact your local DD Audio dealer to find out what your OEM system is really capable of!