DD Audio Install Highlight | WRITTEN BY LEWIS JACKSON | 7 August 2017
For this month's article, I thought I would focus on another staple of our business that keeps us going year after year. The serious competitor like Moises Delgado who did a build in his little Abarth that could.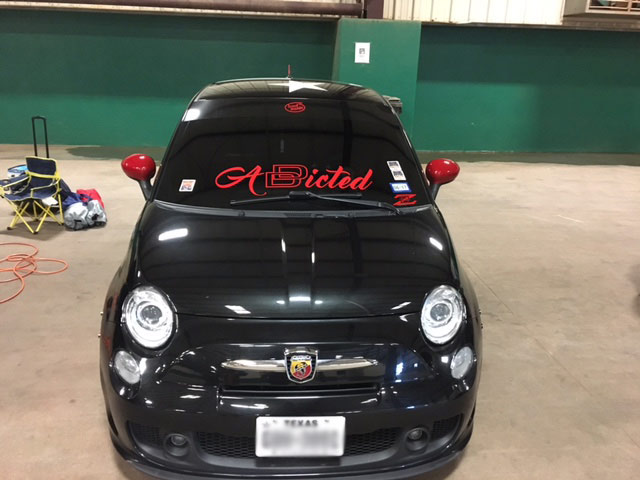 Don't let the diminutive size of the vehicle fool you, this thing packs a 160+ dB punch, courtesy of the massive power plant it manages to hide inside. Boasting two monstrous Z2c amplifiers for subwoofer duty, the need for power was going to be a tricky one. Moises ended up going with JY Power 80 aH Lithium batteries (yes, plural) to feed his surfboards all the juice they could possibly ask for on his quest for ever higher scores. Like most of us, he didn't start out with Z amps and Z woofers. Moises stems from the same humble mobile audio beginnings as many of us, at least those who dare admit it. He still holds onto the home speaker he put in his first mobile audio system, as a reminder that we all started somewhere.
Starting in 1999, Moises discovered DD Audio as a brand, and was immediately smitten. He got his foot in the doors with a set of 3500 series woofers, making his way up the ranks to 9500's, to 9900's and now to his current set of Z3 woofers, with his scores climbing all the while. From his humble beginnings with the 9510's hitting 153 measly dBs, up to his mighty 162 dB scores the Z315's put up currently, the path is not done for this young man. He hopes to manage to wring a whopping 168 dB peak from this dedicated rolling enclosure before he will be "done" with the project. Considering that, by trade, he's an Engineering Director for a major hotel chain, rest assured he knows how to see a project through to fruition.
Keep an eye out if you plan on attending any gulf region shows, you never know where Moises may show up to show out in this mean little 2012 Fiat 500 Abarth. With a goodies list like this, how can you blame him?
2 – DD Z2c Amplifiers
2 – DD Z315 Subwoofers
2 – DD VO-M6.5" Midrange Speakers (in doors)
2 – DD VO-B3 Tweeters (in doors)
DD EA3.0 Attenuation Mat
DD Z-Wire Power Cable
DD Z-Wire RCA System
2 – JY Power 80ah Lithium
240a alt
As with any pricey hobby, this kind of labor of love would not be possible without the love, support and often the permission of our loved ones, and in this instance it is especially true. Shout out to the incredibly understanding Monica Delgado, we know how tough these builds can be. He couldn't have done it without you! Good luck on that quest to 168 dB!
Visit the DD Audio Adventure page to enhance any of your on or off-road adventures!