DD Audio Product Spotlight – Z-Wire RCA System
May 16, 2017
DD Audio Product Spotlight | WRITTEN BY KEVIN DOYLE | 16 May 2017
The DD Z-Wire RCA System is the perfect solution for installers that are tired of low quality, overpriced, too long or too short RCA cables.
This unique system pretty much solves all the issues that plague standard RCA interconnects:
No more wasting time hiding extra cable lengths, or trying to eek one more inch out of a cable that's too short.
Easier and quicker to run when installing since the bulky RCA connectors can be put on last.
Less time spent worrying about unwanted system noise because of pro audio grade EMI and RFI noise rejection features.
Rugged construction with a more reliable and more durable end connection when compared to soldered or crimped connectors
Slick aesthetics featuring polished black and silver chrome metal ends with cast DD Audio logos.
When you compare the construction of Z-Wire RCA Interconnect cables to ordinary RCA cables you can quickly see where ordinary cables fall short. For the heart of this cable we use a 24 gauge, 64 strand, oxygen free stranded copper center conductor. This results in an ultra low impedance cable that stays very flexible.
The interconnect cable features 5-way noise rejection. The center conductor is double isolated via a gas injected dielectric, and a conductive PVC jacket. By double insulating the the center conductor there is minimal signal loss and greater electrical noise rejection. The cable is triple shielded with a tinned copper faraday sheath, and a bifoil aluminum bonded polyester film which together provide 100% shielding coverage. By utilizing two different shielding methods, EMI and RFI, noise rejection is increased.
The multiple components of this technologically advanced cable are held together with a soft touch PVC jacket that's rugged, yet stays very flexible.
In just four easy steps you can have the custom RCA cables you always wanted without the normal hassle.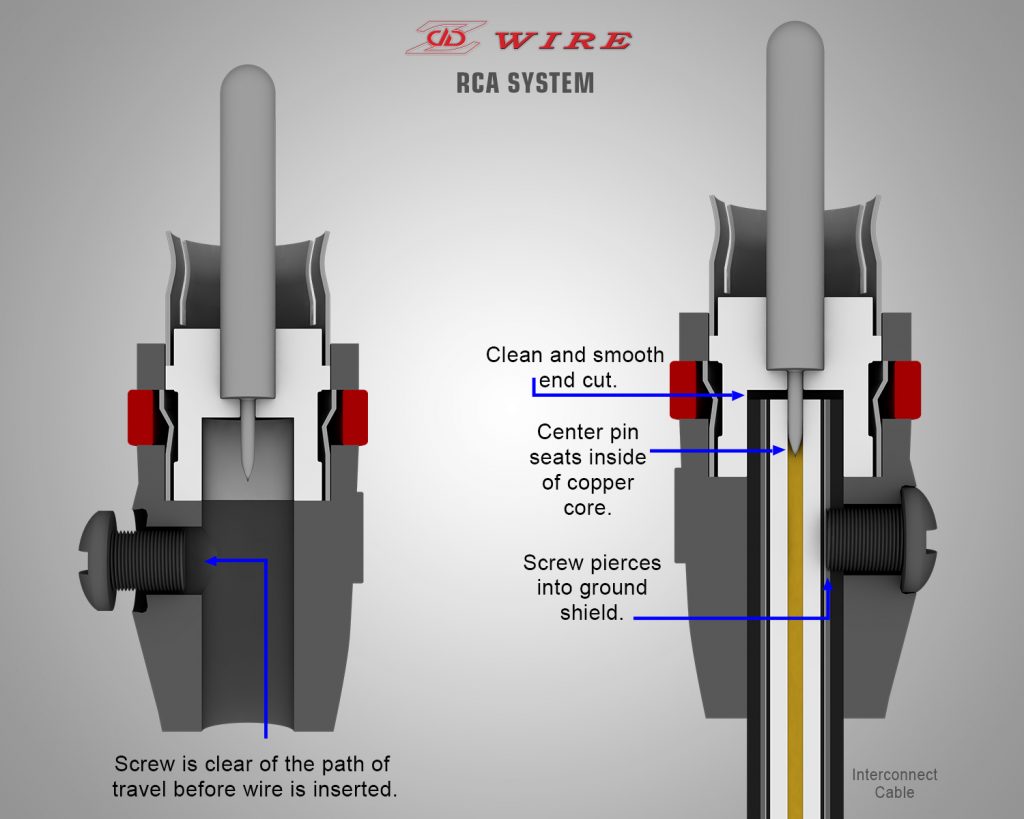 Cleanly cut the interconnect cable to the desired length. Trim and clean any loose or overhanging strands of shielding.
Loosen set screw on the RCA connector so the screw cannot interfere with the cable jacket when inserting the cable into plug. Push cable into the RCA connector with a "screwing" action. Make sure the cable fully seats into the RCA connector.
Tighten the set screw until you feel it contact the outer jacket of the cable, then make three full turns of the screw to insure the the screw pierces the jacket and makes a solid ground connection. Do not over tighten.
Test the center conductors and ground sleeves for continuity and shorts.
It's that easy, but if you don't believe it watch this video that goes over some benefits, misconceptions and just how easy it is to use the Z-Wire RCA System.