DD AUDIO's Andy Berning Attends USACi World Finals
April 5, 2022
DD AUDIO® Technical Representative and Account Manager Andy Berning attended USACI World Finals on March 23rd. He was there to meet and support DD customers who were competing in a wide range of class divisions.
"This past weekend I met some of the kindest, most fiercely loyal people from across our nation.  They were battling it out in the Forum of Noise. I watched absolute chaos from those making the last minute changes to the "let's build it" in the parking lot. I saw some of the most polished and refined rolling works of art! The competition was about fun and family. Our DD AUDIO  crew was amazing. We had people together that have never met before helping one another to make their best levels."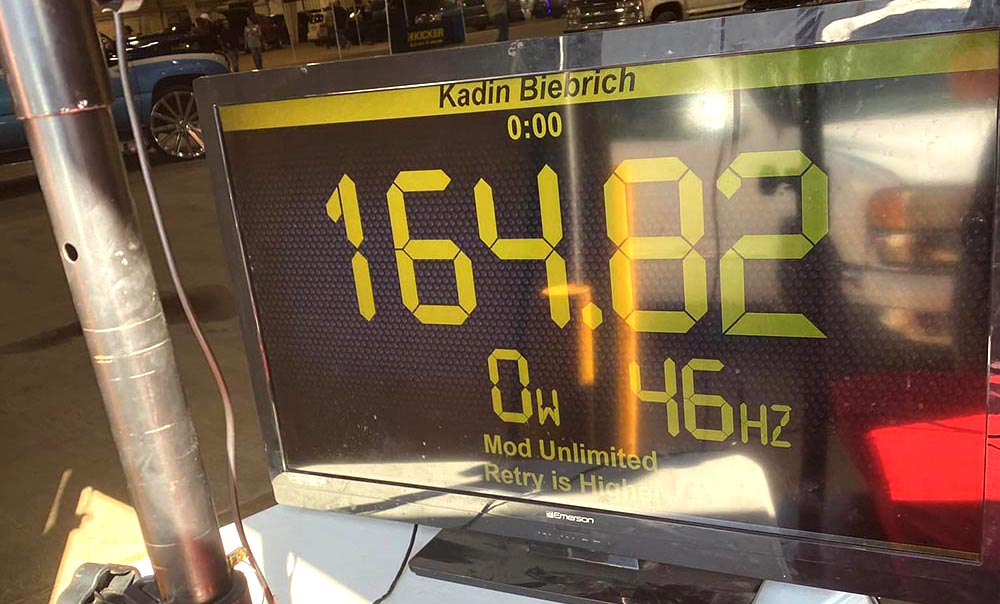 Kadin Bieberich happily parked his badass flat wall, showcasing 12 carbon fiber 9912's, in DD's "Tent City". His recently finished truck managed to accomplish two major milestones this year: a world championship and a runner up in Street Beat 3. For a fresh build to come out and clean up is a very impressive feat, but this truck gets absolutely loud.
"Can't wait to see what you do in the future. You represent Oklahoma like a one man wrecking crew!"
Kadin Beiberich Build:
12 x 9912 – 9900 Series 12 Inch Power Tuned Subwoofers
| | | |
| --- | --- | --- |
| Competitive Class | Score | Place |
| Novice Unlimited | 164.01 | 1st |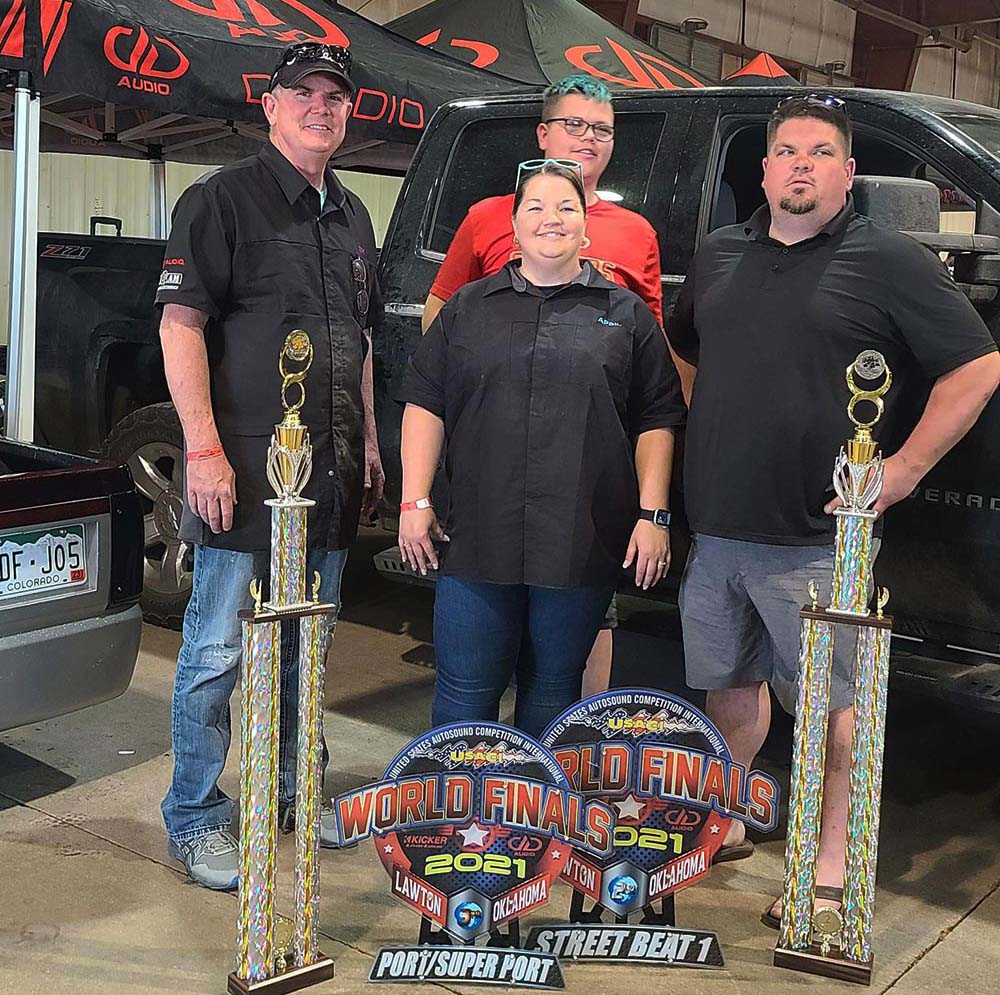 April and Daniel Brandenburg of Team DAB Customs from Colorado had a catastrophic failure the night before they left for finals. Rather than packing up and leaving the CRX behind, they showed their real character by loading the materials to rebuild their entire car in the demo arena and hitting the road. Friday morning around 3am, they arrived in Lawton Oklahoma where they stood in line, calm and collected, to get their prime time slot to run the crx, which was in pieces.
"I asked, where do you want to start building this car you are running tomorrow" and Daniel said the parking lot. So began the madness. Friday, pre-registration, I watched the husband and wife duo go to battle armed with a table saw, sander, and resin. All of it to occupy the number one seat in Street Beat 1. This is a 30 second musical average, which is a tall order to take on when you have had a year to prep the car. It should be downright impossible when you only have one day."
The two DD AUDIO Z415's, powered by an M8000, roared to life just hours before their time slot, and set a new personal best for April who took home 2nd place in Street Beat 1, and 3rd place in Port Wars.
"This team is a true showing of dedication and they are truly great representatives of DD AUDIO as a brand!"
April Brandenburg Build:
1 x M8000 – M Series Monoblock Amplifier
2 x Z415 – Z Series 15 Inch Power Tuned Subwoofer
2 x DX6.5 – D Series 6.5 Inch Coaxial Speakers
Z-Wire RCA System and Cable
| | | |
| --- | --- | --- |
| Competitive Class | Score | Place |
| Street Beat 1 | 159.47 | 2nd |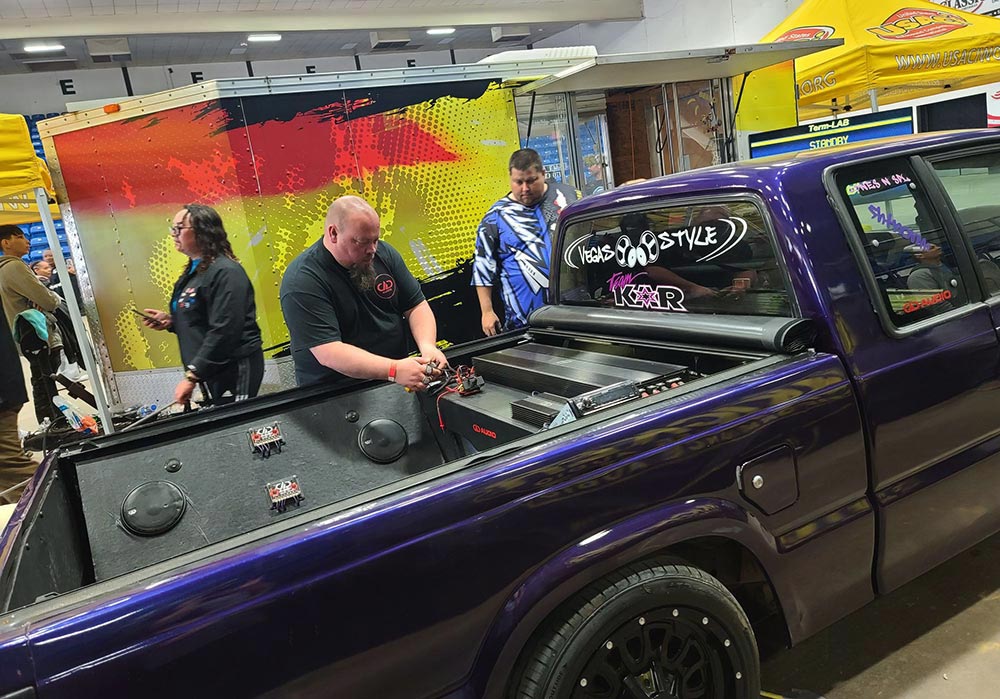 TEAM KAR is a group of all-stars composed of Konnected Auto Restylin' out of Colorado: Dj Klamfoth, Darren Laffan, Kelli Lee, and Cameron Kullas.
"These guys came in with some of the most beautiful mini trucks and walled off bandpass enclosures I have seen. The installations this shop churns out are indescribable. They know their stuff and they are great people!"
Andy watched as Darren effortlessly defended his mit full of world championship rings in that purple Mazda monster he has. Dj, running his beautiful air ride Mazda filled to the brim with 508 subwoofers, took home trophies in every single class he touched!
"One of my favorite moments this weekend was watching my 6 year old daughter run around, helping Dj wipe his truck down to prepare for the Show King run. It truly felt like he was one of my family. We will do great things in our future together!"
Dj Klamfoth Build:
14 x 508 – 500 Series 8 Inch Power Tuned Subwoofers
2 x M8000 – M Series Monoblock Amplifiers
1 x ZVL – Multi-Amplifier Synching Module
2 x EX4 – E Series 4 Inch Coaxial Speakers
EA3.1 – 3mm Energy Attenuation – Sound Deadener
Z-Wire RCA System and Cable
New No Wall 7k Legal World Record – 153.87
| | | |
| --- | --- | --- |
| Competitive Class | Score | Place |
| No Wall 7K | 159.7 | 3rd |
| 10k Mod | 160.8 | 2nd |
| Street Beat 2 | 158.49 | 2nd |
| 7k No Wall | 159.36 | 1st |
| Mod Unlimited | 161.10 | 3rd |
Darren Laffan Build:
10 x 610 – 600 Series 10 Inch Power Tuned Subwoofers
1 x Z2B @ 18v – Z Series Amplifier (Discontinued)
2 x D4.100 – D Series Multi-Channel Amplifiers
2 x CC6.5a – C Series Component Speaker Sets
Z-Wire RCA System and Cable
| | | |
| --- | --- | --- |
| Competitive Class | Score | Place |
| Modified 10k | 162.73 | 1st |
| No Wall 14k | 164 | 1st |
Final note regarding the World Finals: Carlos Rodriguez, the loudest recorded competitor in USACi history with a standing 184.4, was in attendance. There he saw Andy supporting the builders who used their high performance DD AUDIO products to great effect. Following the show, Carlos toured the DD facility and had multiple conversations with DD reps about what his goals for his van were. He made the decision to switch his build's amplifiers to DD's M8000's. The Astro Van will soon be competing with a new kind of power.
"We are looking forward to pushing the boundaries of loud with you Carlos!"
Looking for Solid Performance with Sizeable Savings? Check Out the All New REDLINE Products to Upgrade Your SoundTM!