DD Audio Install Highlight | WRITTEN BY LEWIS JACKSON | 11 July 2017
OK bassheads, I know that over the last couple of installments we have dabbled in the practical, the sound quality, and the show quality sides of the mobile audio game. Well, it's time. Time to go back to what many of the DD Audio loyal have come to know and love DD for, and this month it's courtesy of Matt Herman of Cartunz, in Williston ND.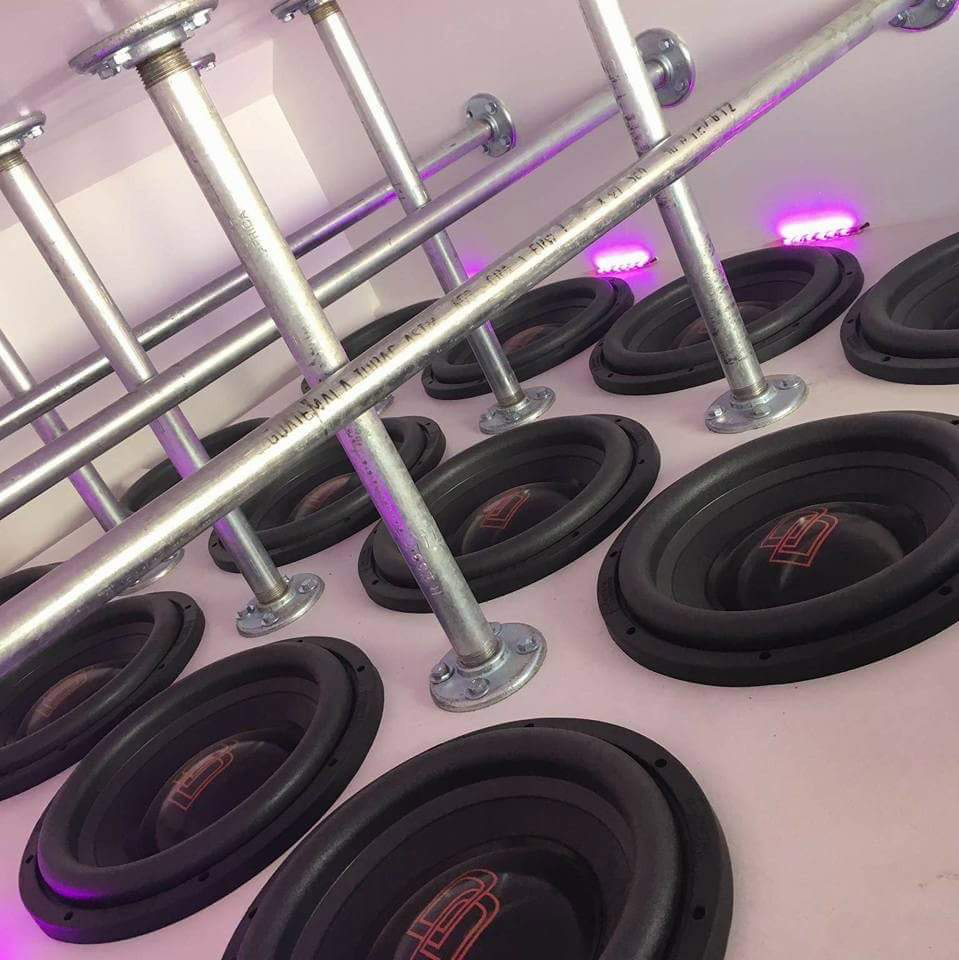 Matt originally became aware of DD Audio when a friend loaned him some DD equipment so he could make a competition, as his current equipment wasn't up for the challenge. He was so pleased that he even tried to buy the gear off his buddy rather than part ways with it! He loved the fact that the DD Audio gear survived his abuse, despite him being "less than nice" to the equipment. Fast forward to now, and this build is just the way we like 'em, preposterous! Despite starting with a behemoth of a vehicle, Matt and his teammates, Blaine Trones (who designed the enclosure) and Kyle Dobson, along with the invaluable aid of his boss, Greg Fuchs, stuffed this 2001 Ford Excursion with enough DD gear that the suspension needed to be upgraded to handle the task.
The equipment list in this bass monster reads like a wish list for most of us, all the way down to the infotainment system in the back for bystanders who need a break from the aural beatdown caged within. Stuffed within its confines are the following: One XS D3400 battery under the hood, five Carquest 8DG batteries in the rear (for temporary battery bank), three Ohio Generator alternators, four runs of aftermarket 2/0 front to back, four DD M4a's, twelve DD 9512j's, one DD SS4b, two DD SS6's, four DD VO-M8's, sixteen DD VO-B2's, twelve DD VO-M6.5's, dual 1/0 inputs in the DD M4a's, 2000w power inverter, 55″ LG TV, Xbox One, PS4, Kenwood head unit, DD EA-3.0, and custom fuse blocks.
All of this gear is housed in fully customized panels built painstakingly by Kyle and Matt over the span of about a year. Many of you may have seen this beast at many shows up north, and if not, you may soon see it at a show near you. You can also check out his YouTube videos, they do not disappoint. Matt mentioned on several occasions that this was far from a solo project and would like to thank all those that had a part in helping him construct the demo vehicle of his dreams! So, keep an eye out for those guys from North Dakota, they have shown time and time again that big bass and DD Audio are a perfect match!
Visit the DD Audio Adventure page to enhance any of your on or off-road adventures!