Shop Name:  Lawson's Car Audio
Shop Location: Augusta, Georgia, USA
Owner's Name: Morgan Lawson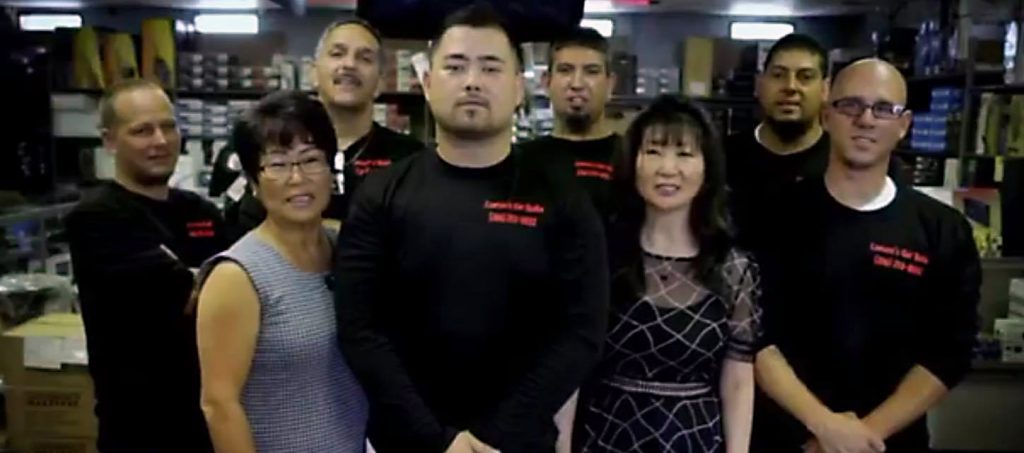 DD: How long have you been in business?
Morgan: 24 Years.
DD: How did you get started in car audio?
Morgan: Roy Thomas Lawson Sr. was born on January 20th 1955 in Union, SC. Roy join the armed forced in 1973 where he met his wife Su Lawson while stationed in South Korea. Roy then retired from the armed forces in 1985 at the rank of Staff Sergeant. After retiring from the armed forces, Roy began working for GTE Corporations. After his two children were born, Megan and Morgan, Roy quit his job with the GTE Corp. to open Lawson's Incorporate so he could be closer to his wife and children. Lawson's opened their doors in 1994 under the ownerships of Roy Lawson and Su Lawson. They later began selling everything from TVs all the way to furniture. It wasn't until Su Lawson purchased three pallets of car audio at an auction that they realized that this was something they could really enjoy. Since then, the shop became Lawson's Car Audio.
DD: What made you decide to do car audio for a living?
Morgan: The shop began as a distribution shop of everything you can think of. After Su purchased the three pallets of car audio from an auction not knowing what exactly she had purchased, they sold it cheap and noticed it drew in a lot of clients. Afterwards it became history and we became Lawson's Car Audio.
DD: Does your shop specialize in anything specific?
Morgan: We do car audio, cellular accessories, lift kits, tires, rims, lights, underglow, and window tint! Hopefully soon we plan on starting to wrap vehicles.
DD: How long have you been a DD Audio dealer?
Morgan: We have been a DD dealer for the past four to five years in Augusta, GA.
DD: Where did you first hear about DD Audio, and why did you decide to become a DD Audio dealer?
Morgan: We had one customer come into the shop and ask about DD Audio and if we carried this brand. After the customer left we looked further into this brand and saw major Potential for our shop.
DD: Is there anything else you would like to add about your experience with DD Audio?
Morgan: I can honestly say that DD Audio has impressed everyone who came into the shop and will keep impressing everyone. Our top selling item is the LE-S06 for trucks. This year alone it is our top selling subwoofer in the shop and we expect it to keep being at the top of our charts.
Check Out More of Lawson's Car Audio's Custom Work on Our Install Highlight!
Have you Upgraded Your Sound? Show it off with DD Audio Lifestyle and Gear items!