DD AUDIO INSTALL HIGHLIGHT | WRITTEN BY LEWIS JACKSON | 12 DECEMBER 2017
In life, we are forced to make decisions. Sometimes it is simply impossible to have your cake and eat it too. Luckily there exists people who refuse to accept the age old adage, and simply find ways to make it work. This month's focus is on a vehicle and team that have done just that.
For those familiar with the Optima Ultimate Street Car Invite, it is a sports car series centered around serious street performance. It boasts cars designed to excel at all things sport, from acceleration and braking to cornering prowess and everything in between. When designing a build like this, every little pound counts and entrants pare the weight away in any way they can for the sake of better performance. For most people, that puts a stereo system completely out of the question.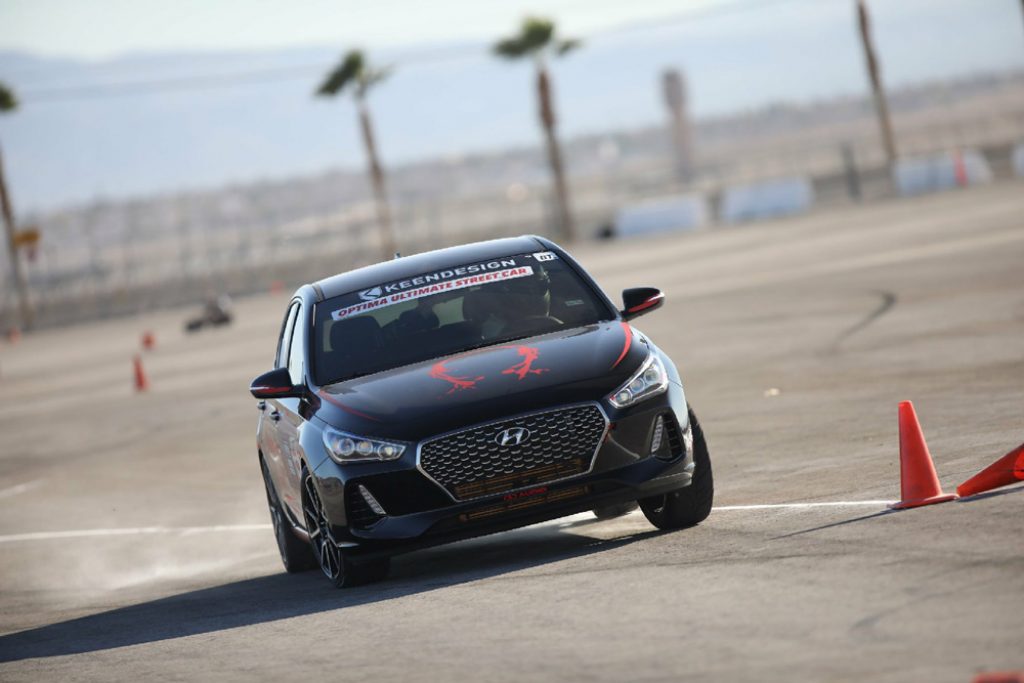 In the case of this 2018 Hyundai Elantra GT Sport, that was not acceptable. Not only did this car have to perform at the Optima USCI, it needed to wow crowds while displayed at SEMA. To that end, Jorge "Geo" Ramos and the team at Top Gun Performance and Tuning knew exactly where to turn. Pairing a DD Loaded Enclosure and D Series components and coax door speakers with a 5 channel D Series Amplifier was the perfect lightweight, high performance system for the build. Jorge also used the SC4.1 line level converter to upgrade the sound in the car.
Jorge could have chosen any company to go with for the sound in this unique vehicle, but he remembers his first exposure to DD products fondly. His friend showed up with a 10 inch DD Audio sub and amp and he was blown away at the output emanating from the diminutive driver. Knowing what the line was capable of, he still managed to surprise himself in the staging lanes at the Optima event. He recounts: "Imagine this, while competing at OPTIMA's USCI and waiting during staging I had the system on while waiting and it was so clear that it got the event models attention, enough to have them dance outside the of the vehicle! What more could you ask for from a system!"
Having a sound system that was perfectly matched to all of the go fast goodies helped propel the car to the 3rd round of the SEMA Battle of the Builders as well as a Golden Ticket to the Optima USCI event. The system even left room for the nitrous bottle in the boot! The other performance goodies consisted of the following:
KEEN Design KD-05 Wheels
Federal Tire 595 RS-RR
Nitrous Race Connection Custom Kit
Custom Full Exhaust with electric cut out option
Custom TOPGUN 3.5″ Carbon Fiber Cold Air Intake
K&N Filter
Custom Red Anodized TKO Clamping Systems Clamps
SPARCO Racing Harness
Mishimoto Gold Race Intercooler J-Line
Mishimoto Double Catch Cans
Custom TOPGUN Performance Tune
DD Audio Sound System
Custom TOPGUN Wrap and Carbon Fiber
It's clear to see that if you want it bad enough and have the drive to see it through, you can in fact have the cake, and eat it too! Thanks again, and congratulations to Jorge and the team at Top Gun Performance and Tuning. We look forward to seeing how this car does at the Optima USCI event, and what you guys come up with next!
Upgrade Your Sound™ and Save!
Get a 10% off coupon on qualifying upgrade options.