This hobby would be a lot cooler if there were more women participating. There. I said it. I couldn't count the number of times I have heard this over the years at audio competitions. Well, as it turns out, there are tons of women out there who are just as fanatical about their audio systems. We would like to introduce everyone to the hands-on Ebba Wickström, from Sweden and her booming VW Golf, a project she has been working on steadily over the last couple of years.
Ebba began her tutelage under the experience of Robin Lilje, who helped teach her the basics of car audio and really got her started down her current path. When it came time for her to rebuild the car to its current state, Ebba decided to go in a direction she had not previously attempted. For this iteration, she wanted to not only be loud, but to be loud and clear. After all, being the progeny of a professional musician gives one an inherent ear for sound quality, and she knew exactly where to turn.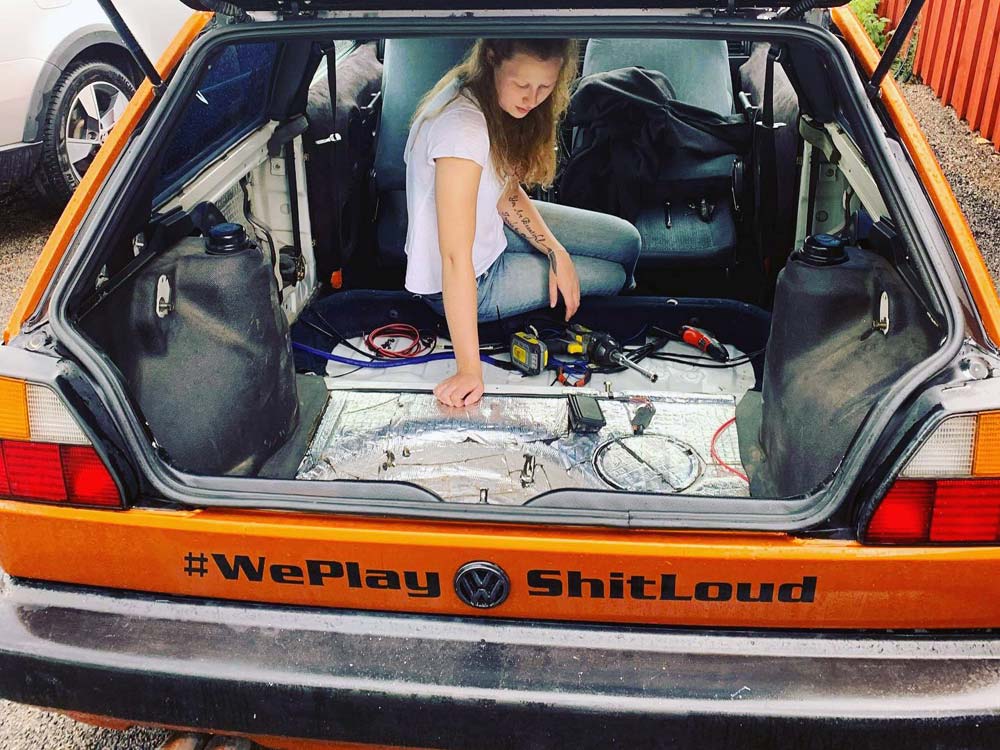 Knowing the reputation DD Audio carries for its high performance, high quality gear, Ebba stuffed this VW to the gills with DD Audio goodies, with plans for more down the road. Currently shoehorned in the compact hatchback are 12 VO-M8 Mid Drivers with 4 VO-B2 Bullet Tweeters for backup. These are driven with one of our most legendary amps, the venerable S2b, as well as a C2.150 for the tweeters. The subwoofers chosen were 8 (yes, 8 in a GOLF) of the REDLINE 608d, ran in a ported enclosure in the hatch. While power currently comes from a Brazilian amp, an M5 is in the works. Once that is in place, the entire build will be DD audio from top to bottom, including the onboard power supply for charging the battery bank, and even the wiring.
The journey to this level of automobile enthusiasm is rarely a solo mission, and Ebba's journey was no different. Aiding in this build were John at AI Group assisting in making sure they had everything needed for the build, and Rasmus at Audio55.se who helped sponsor the build. Every competitor needs a team, and Team PlayShitLoud is more than a team, they are car audio family.
A big thanks go out to Ebba for being an ambassador for women in the hobby, and for demonstrating that with enough perseverance and guidance, getting that perfect system is possible, even if you have to do it yourself. Congrats on an impressive build, and we can't wait to see the next revisions!
DD Audio Equipment List:
12x VO-M8a – 8" Voice Optimized Mid-Range
4x VO-B2 – Bullet Tweeter
1x S2b – S Series 2 Channel Amplifier
1x C2.150 – C Series 2 Channel Amplifier
1x SPS-100.4 – 100AMP AC~DC Power Supply
8x 608d – 8" REDLINE 600 Series Subwoofer
Start Your Holiday Shopping Now With DD's Audio Gift Guide!