Product Spotlight: DD Audio Defies Nature with New 18" Evolution Subwoofer Package
November 28, 2018
It is with great excitement that DD Audio announces the highly anticipated upcoming release of the 18" ESP, the newest and largest addition to the Evolution Subwoofer Package upgrades.
Evolution is about moving forward. It's about adapting to and then surviving an environment of conflict and stress. Evolution is not so much a goal as it is a process; one which generally occurs on imperceptible levels, over countless generations, without the guidance of unnatural forces. There are exceptions, however, in which scientists preempt natural influences and break natural order to force evolution where needed. Concerning the future of True to the SourceTM sound, DD Audio's top engineers have been pushing such an evolution on their already superb designs for sometime in the form of their Evolution Subwoofer Package. For the handmade Power-Tuned, HiDef and all Z subs, the ESP is an upgrade in performance and resilience like none other. Since it's entry in 2014, ESP has been a game-changer thanks to features like:
Carbon Fiber Blend Cone (CFB) – The CFB composition employs a potent carbon fiber based cocktail to give you the highest strength to weight ratio of any pulp cone in the industry.
Vario-density Extended Range Of Motion Surround (V-ROM) – Provides the ultimate in linear control at high excursion while still allowing for dynamic sounding bass reproduction. The control ribs are compressed to a lesser density than the main surround body to allow for a continuously variable control system. The harder you drive it the more control you get.
Tuned Spider System (TSS) – Each suspension is tuned for specific performance traits, e.g. High Definition, Power Handling, X-Stiff Control.
Super Frame (SFrame) – Maximizes spider diameter, cone diameter, suspension excursion, works as a secondary shorting ring and provides additional heat sinking for better heat flow from the coil.
Previously, this performance enhancing package was made available on the 8", 10", 12" and 15" frame sizes of DD Audio's immensely popular 2500, 3500, 9500, 9900 Power Tuned subs and 2008, 3010, 3012 and 3015 HiDef Tuned subs, and of course, the Mini-Z, Z3 and Z4 subs. The new 18" ESP will bring the Evolution Subwoofer Package to the upper size range of DD Audio's custom built subwoofers. With expected availability in early 2019, this upgrade will apply to the 3518, 9518, 9918, Z318 and Z418 subs.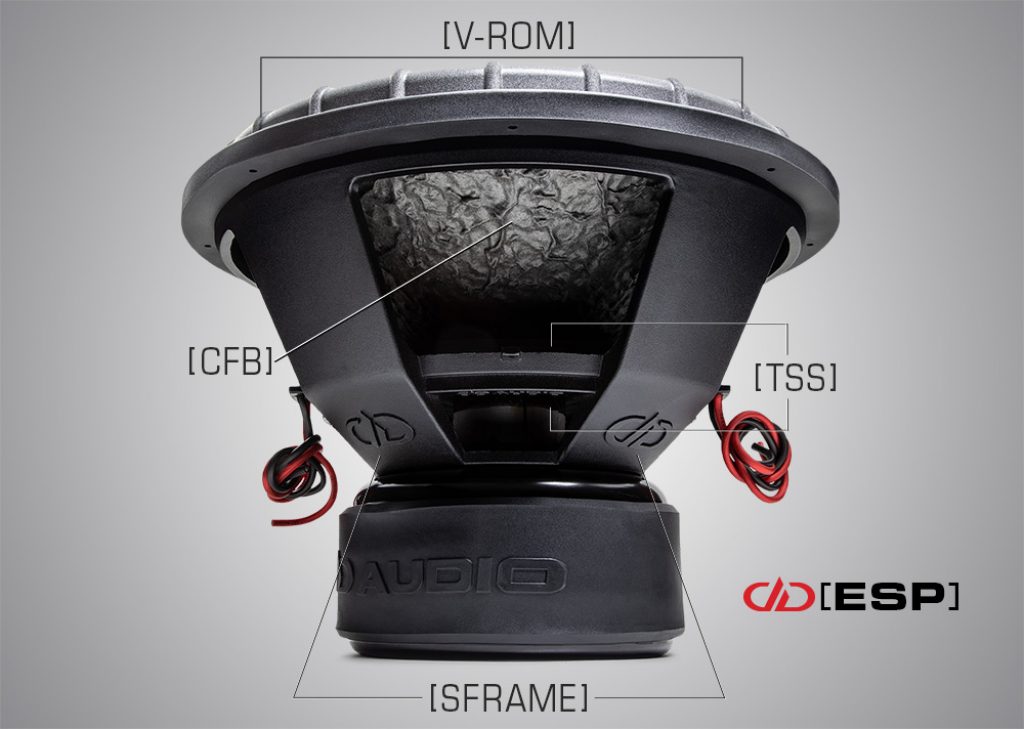 ESP is the logical next step for performance subwoofers and as it grows in popularity DD's already proven sub lines will continue adapt and develop. Not some weird, mutant, prototype or monstrous result of bored scientists gone mad with power, the ESP was purposefully designed and built to evolve exceptional subwoofers and improve listening experiences for those looking to Upgrade Their Sound.
Upgrade Your Holiday Season with the 2018 Audio Gift Guide!