PRESS RELEASE
Oklahoma City, OK, October 23, 2018 — Last week DD Audio brought you highlights from their International Team's trip to the 2018 dB Drag Racing Association European Championship Finals in Montichiary, Italy. This week, DD shares an interview with up-and-coming competitor Christoffer Carlmark. In just two years, this relatively new competitor went from dreaming of owning a Z3 to using one to place in his first showing at Euro Finals and meeting the CEO of DD Audio. Judging by the attitude and plans that Carlmark expresses in the interview, this event marked the beginning of a promising future in car audio competition.
Tell us a little about yourself and your competition vehicle?
My name is Christoffer Carlmark, I am 27 years old and live in Arvika Sweden. I work in auto restoration. Most of my spare time is spent on car audio. If I'm not working on any of my cars, it's probably because I'm helping someone else with their builds.
My competition car is a 1999 Škoda Felicia. There are three Optima Yellow Top 75ah batteries and 120a generator. The power and ground cables to batteries and the engine are 95mm2 with dual 50mm2 to the amplifier. It's got about 42-45 sq meters damping mat throughout. The sound system consists of one DD Audio Z3 15" D1 powered by a Banda Viking 7k. The car is a daily driver, so I replaced the front speakers with DD's CS5.2 powered by a small SounDigital 400.2.
What made you want to get loud and what took you from casual to competitive?
Loud music has always been an important part of my life. I think it's something special to feel the music, not just hearing it. When I was young I struggled with traditional education. It wasn't until I got out of the classroom structure and used my hands to create that I began to see a path forward. When I was 14, me and my sisters persuaded my mom to get a subwoofer in her car which gave me something to mess with. I learned some basics from a neighbor, started reading, watching videos, and just got as hands-on as I could to see how it all worked. It just escalated from there.
Competing with car audio started as an impulsive thought. I began by reading some rules and decided to start with Bass Race because it sounded like a fun competition where everyone would have the same chance to win. I went to my first competition in 2016 where I competed in Bass Race 139.9 and finished in 4th out of 10 contestants. From there I kept building, kept competing, kept trying new things… now I think I am stuck in it for life.
What made you decide on DD Audio and what factors lead to you competing with a single Z3 in your build?
Probably 80% of the cars in my hometown, Arvika, were loaded with DD Audio thanks to dealers in the area. But there were those people who would buy other brands. At competitions and meet-ups, DD owners were satisfied while the people who bought the cheap crap would complain when their systems failed to produce.
As for the Z3… Ever since the first time I saw a Z3, when I was 15-17 years old, it has been my dream sub. I saw four DD Audio Z315s in a monster build, and thought, 'one day'. While I would have several DD subs over the years, I began to lose hope in the Z3 dream. Years later I found myself doing freelance installation and box building for a beautiful Firebird. It was far nicer than anything I was used to working on, so I was nervous. We planned things out well and I was extremely careful. When all the work was done and the owner tried it out, he was very pleased. He paid what I asked on the job, and when he found out that I was working my way up in competitions, he asked to sponsor me. I was thrilled at the opportunity. I had just seen an ad for a Z315 and knew this was it. Within a few days I was driving 500km (one way) to pick up my first Z3!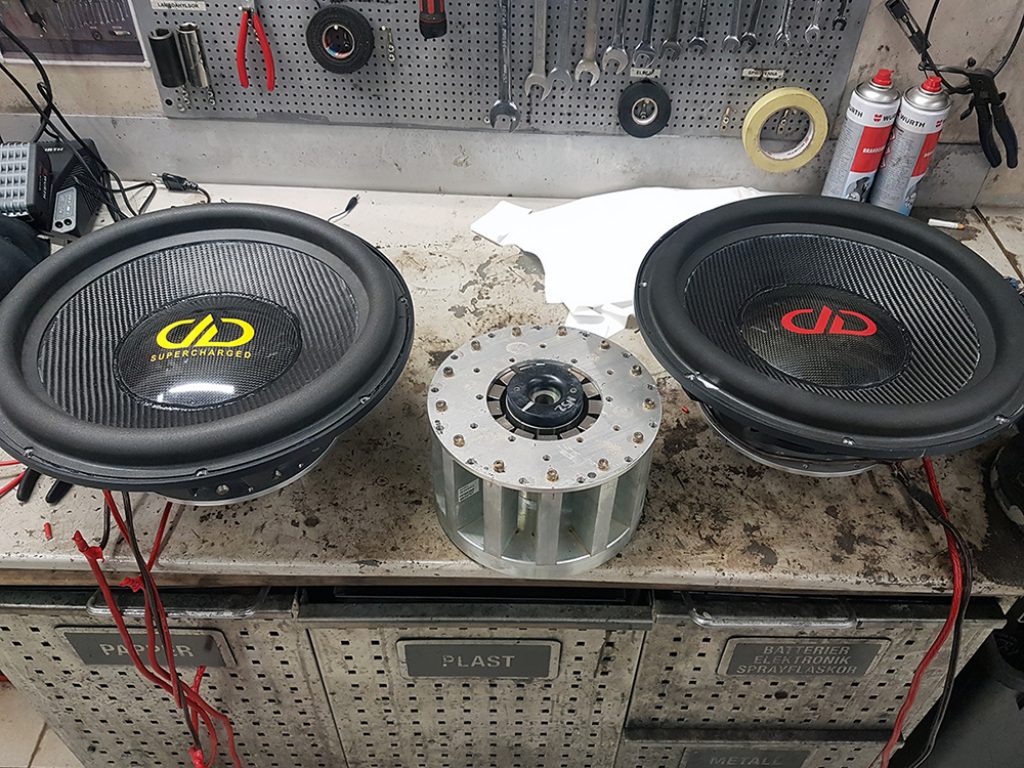 This was your first time going to the Euro-Finals, what were your impressions of the event?
Yes, it was my first but probably not the last. It was bigger than I expected and had far more spectators than I am used to. I had a lot of fun all weekend, meeting a lot of new people with the same interest from many different countries, even outside Europe. The competition was slow at the beginning, but when it really started, things went really good, and everyone seemed happy.
Did you meet the DD Audio International Team?
Yes! I was there with competitors I knew from Sweden and Finland when Charn (International Manager) and Jassa (Owner CEO) joined us for beers. I was surprised! You always get advertisements at these events, but not representatives. Even by plane, coming to Italy from Oklahoma is a long trip.
They spent the whole weekend at the event, had dinner with us, and Charn even partied a bit. I got to sit down, drink, talk, joke and tell Charn all about the DD Audio Z3 in my car. Had a great time. During the competition, they both helped with recones. They knew what they were doing and did it really fast. Jassa was really nice and Charn had a great sense of humor. I was impressed.
It must feel pretty nice coming in fourth place in the dB Drag Street Stock 2k and fifth place in Bass Race 130.0 to 139.9, putting your name so high up on that leaderboard in with your first appearance at finals…
Yes, I'm really happy that I even got there. I'm a little disappointed that I lost Bass Race without any tie-break. But I've never been so nervous about a competition before. Hopefully, I'm calmer next time. I'm most pleased that I qualified with the highest score in Bass Race, 139.97, against Europe's most elite Bass Racers. In dBDrag I knew even before I went to Italy that my chances were low, but I went to have fun and feel that I managed to achieve my goals, so I'm happy.
What are your plans for next year's competition season?
I bought the car about 7 months ago (2 weeks before the first event) so I still have quite a lot left to do and test. Next year I will probably install a new amplifier and hopefully a new battery bank. Then there are some small areas left to dampen.
What would you like share about this experience with our readers?
Worth all 1930km, 26 hours in the car and 6 hours on the ferry (one way). It is something everyone who has a car audio interest should go to at least once in their life.